Posted on
Sat, May 12, 2012 : 5:35 p.m.
Michigan softball team rides freshman pitching to record fifth straight Big Ten title
By Kyle Meinke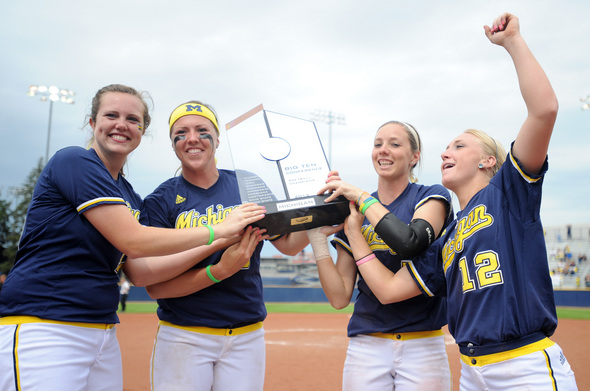 Angela J. Cesere | AnnArbor.com
It hasn't always been easy. It hasn't always been pretty.
But in the end, the Michigan softball team found itself in a familiar place: Atop the Big Ten.
The Wolverines concluded their regular season Saturday afternoon with an 8-5, 8-0 doubleheader sweep of Purdue to finish 18-5 in league play (39-15 overall) and secure their fifth consecutive championship.
That had never been done in the history of the Big Ten.
"Every championship is special," Michigan coach Carol Hutchins said on the field, her shirt soaked with Gatorade. "I told my kids it's not about five (titles in a row), and it's not about 15 (overall). This is about 2012. This is about Team 35. This was theirs. It's not about the past or the future.
"Things didn't go our way a lot this year, and we really had to re-invent ourselves, and reboot many-a-time. ... This is special."
Michigan's biggest challenge this season was replacing three-time All-American pitcher Jordan Taylor, who graduated after last season. It had to do so with a pair of true freshmen, Haylie Wagner and Sara Driesenga.
It wasn't always easy.
The Wolverines hit a low point when they lost four of six Big Ten games during one April stretch, after not losing more than four league games in any conference season since 2003.
They lost those games to Minnesota and Illinois, neither of which finished above .500 in league play.
But the Wolverines responded by reeling of six consecutive victories to close the season, as their freshmen pitchers came of age in time for the postseason.
"There was added pressure on us all season, knowing we had to perform," said Driesenga (9-10), who started and earned the win in Saturday's opener. "But Hutch always says it doesn't matter how old you are, as soon as you put on the Michigan uniform. Everybody is the same, everybody comes out here to win.
"We did that today, and it feels sweet."
But -- much like their season -- things didn't come easily for the Wolverines on Saturday, even if they got their result. They committed four errors in the opener, and nearly squandered an 8-1 lead.
Driesenga ran into trouble in the fifth, when she allowed a two-run, bases-loaded single to cleanup hitter Ashley Courtney that drew the Boilermakers to within 7-3. After Andie Varsho reached on an error, Driesenga was pulled for her freshman counterpart.
Wagner (29-5) delivered in fine form, freezing Danielle Fletcher for a strikeout.
"It's been something that Sara and I have heard all year," Wagner said. "If she gets in trouble, I come in; if I get in trouble, she comes in. That's just how it is."
Wagner allowed the first three batters to reach in the seventh and final inning, including a two-run homer by Purdue's Lindsey Rains that made it 8-5 with nobody out. Hutchins visited the mound to calm her ace, the team three outs from hardware.
She was stern, telling Wagner to "just to go out there and attack. Just to go after them."
It worked, as Wagner retired the next three batters to seal the win. She then cruised through four scoreless innings as the Game 2 starter -- even adding a first-inning grand slam to provide the Wolverines more than enough offensive firepower for another win.
Michigan, replacing an All-American pitcher with a pair of true freshmen, had the first five-peat in league history. Not that Hutchins was thinking about that.
"What (winning No. 5) means is we have practice Monday, and that's all we care about," she said. "When I retire, I can reflect on that kind of stuff. I just want to keep playing."
The Wolverines' quest to return to the Women's College World Series for the first time since 2009 begins in regional play next weekend. Their road to Oklahoma City could be a little tougher than usual, though.
Michigan has hosted its regional tournament every year since 2001, but that run is expected to come to an end because it resides outside the nation's top 16 teams.
ESPN's latest bracketology projects the Wolverines to travel to Louisville, Ky., this year. The selection show is at 10 p.m. Sunday on ESPNU.
"I told the kids a couple weeks ago (we wouldn't host) so they could quit trying so hard to win so we could play at home," Hutchins said. "I just told them, 'Who cares?' We've seen people come onto this field and leave with the trophy.
"So let's just go to somebody else's field and get one."
Kyle Meinke covers Michigan football for AnnArbor.com. He can be reached at 734-623-2588, by email at kylemeinke@annarbor.com and followed on Twitter @kmeinke.