Posted on
Fri, May 24, 2013 : 4:08 p.m.
Michigan's Ashley Lane hits walk-off home run in 4-3 Super Regional win over Louisiana-Lafayette
By Kyle Austin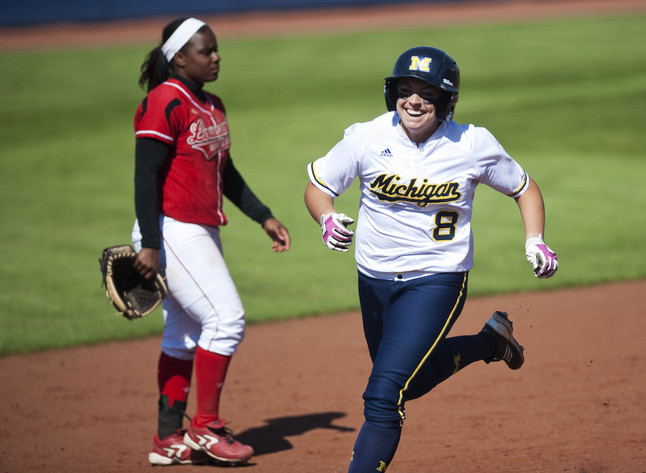 Daniel Brenner | AnnArbor.com
Updated at 5:55 p.m.
Ashley Lane got a second chance at a once-in-a-lifetime hit. And she didn't miss.
With the Michigan softball team trailing 3-2 in the bottom of the eighth inning the senior second baseman hit a hit a routine fly ball into foul territory that was dropped by Louisiana first baseman. Two pitches later, Lane sent a walk-off home run over the left field fence to give the Wolverines a 4-3 win over the Ragin' Cajuns in their NCAA Super Regional opener Friday afternoon at Alumni Field.
More coverage: Photo Gallery | Boxscore
"I gave a little mini fist pump. I was pumped because that's a legitimate second life right there," Lane said. "I definitely wasn't going to let that one get by."
The Wolverines are now one win away from their first Women's College World Series appearance since 2009. The two teams will play the second game of the best-of-three Super Regional Saturday at noon (ESPN). Game 3, if necessary, will follow.
The home run capped a wild end to the game. Michigan led 2-0 with two outs in the top of the seventh, when Louisiana Lafayette's Brianna Cherry sent a 1-0 pitch over the right field fence to tie the game at two.
After Michigan went down in order in the bottom of the inning, Matte Haack gave the Ragin' Cajuns their first lead of the game on a home run to left field in the top of the eighth.
With her team down to its final three outs, Michigan's Caitlin Blanchard was hit by a pitch to lead off the eighth, and Lane started the celebration with a home run to left field.
"I'd say there was a wide variety in my emotions at that point, absolutely," Michigan coach Carol "Hutch" Hutchins said. "The thing is you can't get too high. As I said, nothing's decided today. You can get too high and tomorrow we need to be ready to fight."
This weekend marks the second straight that the Wolverines are playing NCAA tournament games at home. Friday's game was played in front of nearly full bleachers at Alumni Field.
"That was a great college softball game, that was a great environment," ULL coach Michael Lotief said. "That's amazing, it's good for our sport, but this community is lucky to have that softball team and those young ladies represent them."
Wolverines starter Sara Driesenga gave up no runs and four hits over the first six innings, before allowing three singles and two home runs in the seventh and eighth.
Those runs were the first in the game since an eventful first inning that came out in the Wolverines' favor. Michigan scored a pair of runs in the bottom of the first, thanks in part to a Ragin' Cajuns mishap. With one out and a runner on third, a routine fly ball to right-center field dropped between two ULL outfielders allowing leadoff hitter Lyndsay Doyle to score.
The next hitter, Blanchard, singled home Sierra Romero to put Michigan up two.
In the top of the first, Driesenga walked two of the first three batters she faced and had runners on first and third with one out. But freshman left fielder Sierra Lawrence caught a fly ball in foul territory and gunned down ULL's Nerissa Myers at home plate for a double play that ended the inning.
"I was expecting the ball to come out there and I knew that if it went in the air I had to get behind it and throw it home," Lawrence said. "It was a big play for my pitcher and I needed to help her out."
The call was one of several close ones that went Michigan's way Friday.
"Those calls, that's an inch here and an inch there," Lotief said. "If you sit a different way, it all happens different. It does. That game's decided by inches."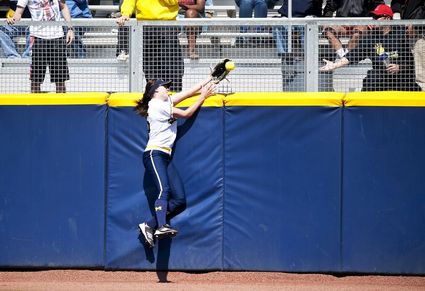 Daniel Brenner | AnnArbor.com
After Lawrence's first-inning throw, Driesenga got some more help from her defense in the sixth inning. With a runner on first, Haack hit a fly ball that cleared the fence in right field. But Michigan right fielder
Nicole Sappingfield
deflected it back on the field with her glove to save two runs and the Wolverines escaped the inning unscathed.
"Best play I've ever seen her make," Hutchins said. "Best play ever. That was fantastic, knocking that ball down was huge."
But even in the elation and disappointment of the aftermath of Lane's hit, both teams were already starting to look ahead. There is at least one more game to play tomorrow.
"Tomorrow's a new day," Lotief said. "And we have to be prepared to fight another war."
Kyle Austin covers sports for AnnArbor.com. He can be reached at kyleaustin@annarbor.com or 734-623-2535. Follow him on Twitter @KAustin_AA.