Posted on
Fri, May 17, 2013 : 5:30 a.m.
Michigan softball team looks forward to home field advantage throughout NCAA Tournament
By Pete Cunningham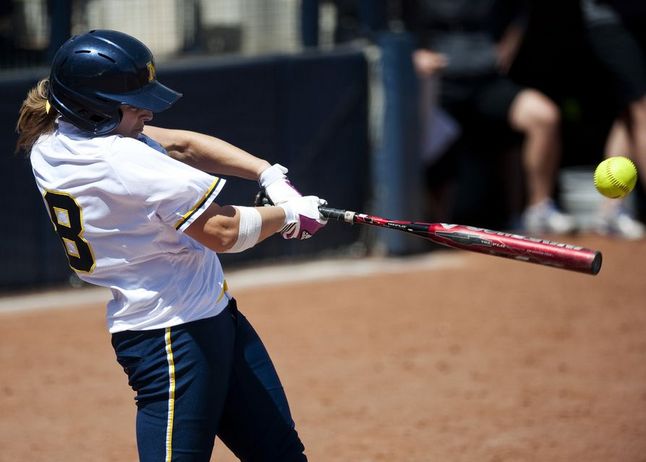 Daniel Brenner | AnnArbor.com file photo
The
Michigan softball
team will enjoy home field advantage for the first leg of its run toward the College World Series.
And if there is a second leg, the Wolverines will have home field advantage again.
The Wolverines will host the NCAA Regional Friday-Sunday at Alumni Field, and as a No. 8 seed in the tournament are guaranteed to host a Super-Regional the following weekend should they win. Michigan coach Carol "Hutch" Hutchins sees it as a huge advantage.
"We spend so many weeks on the road, so to get to be home here at the end of the year is an added bonus, just to be in our comfort zone and in front of our fans. And it's such a great reward to our fans," Hutchins said. "And Alumni Field is a top facility not just as a facility but, when we fill it, it's one of the greatest venues to play in."
2013 NCAA Women's Softball Tournament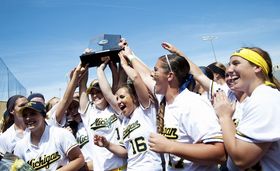 Regional schedule:
Friday, May 17
Game 1 - Central Michigan vs. California, 4:30 p.m.
Game 2 - Michigan vs. Valparaiso, 7 p.m.*
Saturday, May 18
Game 3 - Game 1 winner vs. Game 2 winner, Noon
Game 4 - Game 1 loser vs. Game 2 loser, 2:30 p.m.
Game 5 - Game 3 loser vs. Game 4 winner, 5 p.m.
Sunday, May 19
Game 6 - Game 3 winner vs. Game 5 winner, 1 p.m.
Game 7 (if necessary) - Game 6 winner vs. Game 6 loser, 3:30 p.m.
Athletes sometimes enjoy the road experience - with the regimented schedule and routine - but that's not the case with this team.
"I love being at home. I would not want to spend, especially being a senior (year), my games anywhere else. At home is where it feels best," senior second baseman Ashley Lane said. "There's nothing better than being at home."
Michigan pitcher Sara Driesenga called Alumni Field "one of the best places to play in the country," and said she's looking forward to experiencing the postseason there after hitting the road for the regional round last season. Michigan's juniors and seniors have all experienced hosting a regional in years past.
Driesenga is not alone in her sentiments.
"From what the upperclassmen have told me about how crazy it gets here and how packed and just the environment and having home field advantage, I'm really excited for it," freshman shortstop Sierra Romero said.
Romero said she's not just looking forward to her first postseason at home, but also to getting off on a new foot after a disappointing Big Ten Tournament in which the conference player of the year was 0-for-8 without zero RBIs. Michigan, the regular season champions, was ousted in the semifinals.
"One thing that one of my friends told me is you can't stumble on things in the past. You need to just move on and I'm really excited to have this weekend to just start over," Romero said. "Things didn't go our way (at the Big Ten Tournament), now we have a way to change it and do something about it."
State of the state
The Michigan softball team won't be the only team representing the Great Lakes state at the regional with Central Michigan playing in the tournament as well. Between Central and Michigan, 29 players from Michigan will be participating in the tournament, including Chelsea High School alumnus Brogan Darwin, a senior outfielder for the Chippewas.
"I think it's great for the state of Michigan," Hutchins said. "There's going to be a lot of kids from the state that are going to be playing in this tournament this weekend. It's awesome."
Pete Cunningham covers sports for AnnArbor.com. He can be reached at petercunningham@annarbor.com. Follow him on Twitter @petcunningham.