Posted on
Thu, May 2, 2013 : 5:30 a.m.
Michigan softball team one win from wrapping up sixth straight Big Ten title
By Pete Cunningham
Michigan softball coach Carol "Hutch" Hutchins isn't making a big deal of the fact that her team could clinch a Big Ten title over the weekend. In fact, she's trying to get her team to, in her words, "un-focus" on winning a conference championship.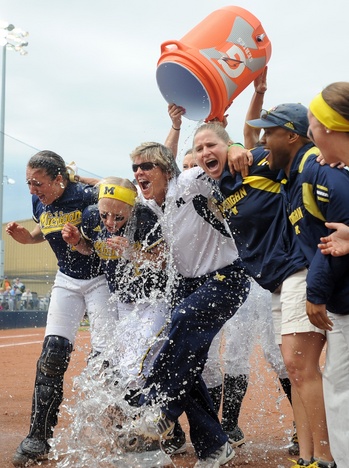 Angela J. Cesere | AnnArbor.com file photo
Has Hutchins won so many (15) Big Ten titles that they aren't that big of a deal to her anymore? Maybe she's trying to avoid an ice water bath like the one she got last year?
None of the above. Hutchins preaches playing one game at a time, and one pitch at a time. She wants her team to play a certain way, and if a Big Ten title is the result, fine. But it's not her primary objective.
"This is about playing good softball and gearing up for the postseason," Hutchins said. "Certainly, when you stay focused on your process good things happen, good outcomes, whether you get good hits, get wins, whether you get trophies. But our focus has not been on that Big Ten championship at all."
Whether Hutchins likes it or not, her team is excited at the possibility of winning yet another regular season conference title. If No. 10 Michigan (41-9, 17-2 Big Ten) wins any of its three home games against Northwestern over the weekend (Fri., 6 p.m.; Sat. 1 p.m., BTN; Sun., 12 p.m., BTN) it is guaranteed sole possession of the championship. Wisconsin and Nebraska - 15-5 and 14-5 respectively in conference play, and each with three remaining league games - are still in contention.
Winning is all this group has known. Michigan has won five straight league titles - a program record - so no player on the roster has ever not been a Big Ten champion.
"Our overall goal is to win two more championships, and that's the Big Ten and the World Series," said senior third baseman Amy Knapp. "It would be a big deal and it would be amazing if we win four (in a row), but we just gotta focus on each pitch in each game.
"We can't lose sight of innings after the first inning and we just have to stay one pitch focused."
Knapp said she's having more fun with this team than any she's ever played on, including as a youth. She said facing a strong Northwestern team over the weekend will make her final regular season games special.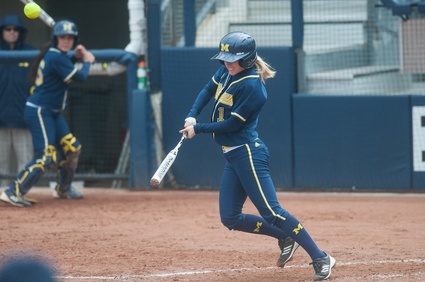 Courtney Sacco | AnnArbor.com file photo
"It's kind of shock that it's almost over. My last regular season game is this weekend," Knapp said with bewilderment. "(Playing Northwestern) is definitely going to be fun. They always bring their A-game against us and are always a tough team to beat, so definitely wrapping up our season with these tougher teams is going to make us stronger for postseason."
Michigan had tough games last weekend, losing two of three to No. 16 Nebraska. It was just the second time the Wolverines lost two of three games this season and the first time since the first weekend of March. Last Friday's 6-1 loss at Nebraska snapped Michigan's nation-leading 22-game winning streak.
"We looked like we were afraid to lose and we did. We didn't start competing there until about the 12th inning of the series. The fifth inning on Saturday, we started to forget about worrying about losing and started playing to win and I thought our process was much better," Hutchins said. "The good thing (about the weekend) is, we're playing a very competitive team. Northwestern's a postseason team, as is Nebraska, and I wasn't very happy with our outcome at Nebraska."
Freshman shortstop Sierra Romero struggled from the plate against Nebraska - going 0-for-7 - a rarity for the slugger who has already tied the single season record for home runs in a season with 21. On the opposite end of the spectrum was sophomore catcher Lauren Sweet, who was named Big Ten Player of the week after going 6-for-7 with two home runs and six RBIs against the Cornhuskers.
"It just goes to show that one person can't carry the team. It's a team effort and it goes to show that we're not going to win unless everyone is playing well," Sweet said. "If we're not all working together, we're not going to win, and that really proved it right there."
Sweet, like Knapp, agreed winning the conference championship on Friday would be nice, but said it won't happen if the team focuses on it too much.
"It's always your goal to win, but like Hutch says, it's one game at a time," Sweet said. "We're not going to win it if we go out thinking 'Oh my gosh, we need to win a Big Ten championship.'
"We need to focus on every pitch of the game and just take it one game at a time."
Pete Cunningham covers sports for AnnArbor.com. He can be reached at petercunningham@annarbor.com. Follow him on Twitter @petcunningham.