Michigan softball team's 3-run rally leads to come-from-behind victory against Iowa
Posted on Sun, Apr 24, 2011 : 6:13 p.m.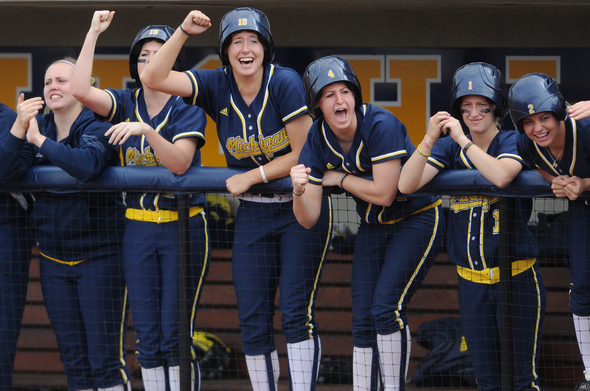 Melanie Maxwell | AnnArbor.com
The two women stuck around, clutching a Michigan softball poster and waiting for Alycia Ryan to emerge from the dugout for her short walk to the Wolverines' clubhouse.
When Ryan arrived, the senior with the game-winning hit during Michigan's 3-2 come-from-behind win against Iowa on Sunday, fans screamed. She walked through, slapping everyone's hand and giving hugs to anyone who wanted one.
Then two girls who said they were her roommates — the ones with the poster — screamed, jumped and rushed toward her to celebrate.
And told Ryan they wanted her autograph.
For the first three years of her career, Ryan sat on the bench as Michigan fielded one of the most explosive lineups in the country. She started one game and had 10 at-bats her freshman through junior years.
Even this year, Ryan's playing time has been spotty. Entering Sunday, she started 13 games and had 43 at-bats, more than 60 fewer than anyone else in the Michigan starting lineup.
It was Ryan's only hit Sunday — Michigan coach Carol Hutchins shifted her lineup Sunday moving Ryan into the No. 3 hole and star first baseman Dorian Shaw into the No. 7 slot — but it capped a three-run seventh inning that kept Michigan from being swept in a Big Ten series for the first time since 2009 and at home for the first time since 2001.
"I just wanted to have a good, quality at-bat," Ryan said. "I'd had a few at-bats prior so I was just trying to see the pitch that I wanted to hit and hit the ball hard.
"That was the biggest thing for me. I just wanted to hit the ball hard and make them make a play."
She hit it hard enough it almost went over the right-field fence, hitting the top third of the wall.
Michigan (42-4, 10-2 Big Ten) needed to rally in the seventh after Iowa (26-17, 8-4) took a 2-0 lead following a solo home run from Katie Keim in the third inning and another run in the sixth.
In the bottom of the seventh, Michigan tried to relieve its stress by getting silly. It put its rally caps — literally helmets turned backward — on in the dugout. Players started making noises and gestures to each other to loosen themselves up.
"We started doing some really stupid things that made no sense," freshman outfielder Nicole Sappingfield said. "But it was funny and pumped us up."
The rally also came from mostly role players.
Ryan was merely one of the Michigan role players who emerged Sunday. Little-used pitcher Hilary Payne, who played because of an undisclosed injury to All-American Jordan Taylor, came in to relieve starter Stephanie Speierman and threw three innings to pick up her third win of the year.
Pinch-hitter Marley Powers had a sacrifice fly in the seventh inning to drive in Michigan's first run and help spark the Wolverines' rally. Freshman Lyndsay Doyle, the No. 9 hitter, beat out an infield single to keep Michigan alive in the seventh.
"You look at Hilary, she's been biding her time, you look at Marley and she hadn't hit for weeks," Hutchins said. "And you look at Alycia, these are kids who don't ever play and they make the most of any opportunity that they get."