Posted on
Sat, Jun 23, 2012 : 5:58 a.m.
Mike Bottom brings international flavor to Ann Arbor as Olympics near
By Kyle Meinke
Mike Bottom was a swimming coach at the 1996 Summer Olympics in Atlanta, and returned a deep portfolio of athletes for the 2000 Games in Sydney.
But he was nervous when he arrived in Sydney -- witheringly nervous -- and had to blow off steam, with Opening Ceremonies only two weeks away.

"We got there really, really early in the morning, because of the flip in time zones, and I told the guys, 'For four days, you guys will see me at the pool, but I will not see you at any other time,'" the current Michigan men's swimming coach said. "So, for four days, I just did the social life. I was going to concerts, pub-nobbing with some of the names in the community there.
"The last morning, I walked on deck having stayed up all night at some social event, and I walked on deck and one of my swimmers said, 'I'm a little worried about you right now.' I said, 'Don't worry, that's it. I told you, I'd stay away so I wouldn't kill you. So I've been trying to kill me, because of the nerves.'
"Let's face it: They can do something about (winning and losing). I can't. So, my nerves just sat there and vibrated. It was crazy. And then eventually, if I was around too much, it'd make them crazy. So the idea was to get away."
Twelve years and two more Olympics later, Bottom's nerves have turned to steely cool -- a temperament that, paired with his extensive international experience, provides Michigan-based swimmers with great support heading into the Olympic Trials in Omaha, Neb., (June 25 through July 2) and Summer Games in London (July 25 through Aug. 12).
"You ask what kind of flavor we brought here, and that's the international team," the fourth-year Michigan coach said. "The last Olympiad, (former Michigan coach) Bob Bowman coached a lot of American athletes who made the U.S. team, but I don't know that he coached many international swimmers."
Bowman was a terrific coach, and remains the personal coach of swimming sensation Michael Phelps, but his expertise is more domestic. He's coached at two Olympics, both as a U.S. assistant.
Bottom represented 10 swimmers from eight countries in the 2004 Olympic Games in Athens alone. In the past three Olympiads, half of the 18 medals awarded in the men's sprint freestyle events were won by athletes he coached.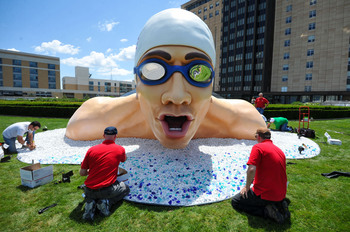 Associated Press
In all, he's coached at four Olympic Games -- 1996 in Atlanta, 2000 in Sydney, 2004 in Athens and 2008 in Beijing -- and will add a fifth this summer when he serves as Serbia's head swimming coach in London.
Even Bottom's assistants have rising profiles in international waters, with Josh White traveling to London with Barbados and Mark Hill with Ireland.
"The Olympic Village can be an interesting place, when you've represented so many countries," Bottom said. "At one point, Croatia and Serbia had just finished a war, and I was coaching a Serbian and a Croatian, and I was on the Croatian team. There was tension. There's no question there was tension politically.
"But I was working with both, they were in the water, and we got along. You learn to get along. Sometimes there was some banter, but these guys understand that even in this type of setting, they do better as a team, even if they're from different countries, and they begin to bind as a team."
That catalog of international experience has been Bottom's mark on the Michigan program in the past four years. Now, the Wolverines will see if it pays off as they begin their first Olympic cycle under Bottom.
Current Michigan swimmers could be challenged to make it out of the Trials in Omaha. Connor Jaeger perhaps has the best chance in the 1,500-meter freestyle, after he won the Big Ten title in the 1,650 freestyle last season as a sophomore.
Sean Ryan and Ryan Feeley, who also were sophomores in that event last year, will vie for bids as well.
"All three of those guys have had their day in the sun in the past six months," Bottom said. "Who comes out on top? I just don't know. I think they're pushing each other, and that's a pretty wide-open event."
Dan Madwed, a captain last year for the Wolverines, has a "good shot" to advance in the 200 freestyle, Bottom said. Sophomore Michael Wynalda "came on the scene last year," winning the 200- and 800-yard freestyle, and could advance in the 100- and 200-meter free.
Sophomore Kyle Whitaker has an "outside shot" in the 400-meter individual medley, Bottom said.
Former Michigan swimmers could have a better chance of advancing out of the Trials. Matt Patton, who competed for the Wolverines from 2005-09, has a strong chance to advance out of Omaha in the 400- or 200-meter free.
"He's been waiting in the wings, and we're hoping this is his opportunity to step it up," Bottom said. "He's been on the U.S. National Team before, and the 400 free's got the spot."
Other Michigan-affiliated swimmers to watch in Omaha include the 16-time medalist Phelps, Peter Vanderkaay (No. 1 seed in the 200 free) and Tyler Clary (No. 2 seed in the 100 backstroke, 100 butterfly and 400 individual medley).
Those former pillars of Club Wolverine helped the club grow into one of the elites.
But they've each exited the program, with Vanderkaay training in Florida, Clary training with former Michigan coach John Urbanchek in California and Phelps in Baltimore. Phelps took Bowman, the club's coach, with him.
The club has morphed without them, transforming from a center for American heavyweights into more of a hub for international greats. That is a tone set by Bottom.
Milorad "Mike" Cavic, from Serbia, has salvaged his career at Club Wolverine. He is a longtime great who is best known as the man who nearly foiled Phelps' attempt to win a record eight gold medals in Beijing.
He lost by only .01 seconds in the 100-meter butterfly -- the closest any challenger came to beating Phelps in those Games. But he has had two back surgeries since, and was not expected to be a major player for the London Games.
Then at last month's European championships in Hungary, Cavic unexpectedly won the 100-meter butterfly and appears to be peaking at the right time.
Bottom will serve as Cavic's personal coach in London. He also is hosting Cavic in his home in Ann Arbor, along with Englishman Ian Hulme and Croatian Duje Draganja.
All three work out at Club Wolverine, and Cavic and Draganja are headed to the Olympics.
Other Olympic qualifiers who work out at Club Wolverine include Barbados' Bradley Ally, Trinidad & Tobago's George Bovell, Ireland's Barry Murphy and China's Peng Wu.
Club Wolverine has indeed shifted into a new chapter post-Phelps, and one that brings international clout.
"We've kind of stepped into our own place now," Bottom said. "We have a number of swimmers stepping in here now because of the Club Wolverine name, and what I bring to the table as a sprint coach, and now turned distance and middle-distance coach.
"We'll continue on. There's so much tradition and history here."
Kyle Meinke covers Michigan sports for AnnArbor.com. He can be reached at 734-623-2588, by email at kylemeinke@annarbor.com and followed on Twitter @kmeinke.