Posted on
Fri, Feb 1, 2013 : 8:49 p.m.
'Boo' comes through with two goals and an assist in Michigan hockey's 3-2 win over Michigan State
By Pete Cunningham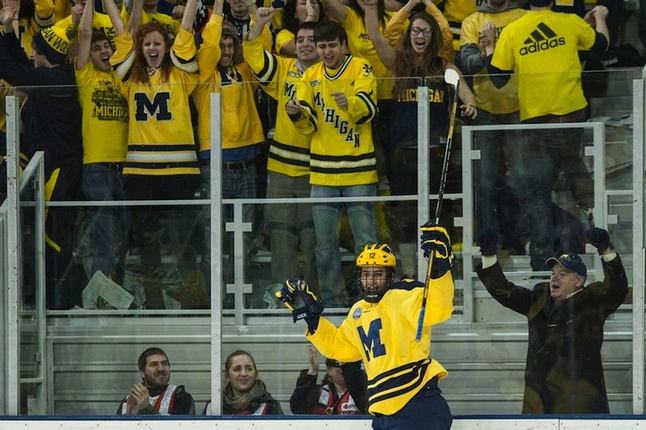 Courtney Sacco | AnnArbor.com
Updated 9:57 p.m.
The Michigan hockey team has given its fans plenty of reasons to boo this season, with one of the worst seasons in the Red Berenson era.
The sellout crowd at Yost Ice Arena let the "Boo"s rain down on the ice on Friday night, but it was in celebration, not frustration.
Cristoval "Boo" Nieves scored two goals and had an assist in the Wolverines' 3-2 win over rival Michigan State on Friday, earning him first-star honors and giving Michigan a chance at its first series sweep of the season.
The teams conclude the weekend series at Joe Louis Arera on Saturday (4:05 p.m., FSD).
It was Michigan's first win at home since Dec. 15, and because its last home series of the year falls on spring break, it was also the Wolverines' last chance to play in front of their full compliment of rowdy student fans.
"I haven't heard the building like that in a while, and that's what it's like when you lose, but when you win, especially against State, it felt great," said Michigan sophomore forward Phil Di Giuseppe, who assisted on both of Nieves' goals. "The crowd was behind us and I think it helped us a lot tonight."
Nieves' first goal of the night, scored on the power play, gave Michigan its first lead one minute, 57 seconds into the third period. But it didn't even last a minute after Jake Chelios, son of former Detroit Red Wing Chris Chelios, evened the score at 2-2 on the very next possession.
More coverage: Photo Gallery | Boxscore
Berenson said he was concerned at the time because this year's team has had a tendency to let such quick shifts in momentum impact it negatively. He was pleased to see the Wolverines respond positively.
"We've talked about letting things bother us or not bother us and I didn't think we let it bother us," Berenson said. "I mean, we didn't like it, but I think we had built up some confidence in the game and kept going and then the puck went in."
Nieves' second goal of the night gave the Wolverines (9-16-2, 6-13-2-2 CCHA) the lead for good as he sprinted from Michigan's blue line to the mouth of the Spartans goal, finished off a Di Giuseppe pass 4:51 into the third.
Nieves got the puck to Di Giuseppe after a hard hit caused a Michigan State turnover and took off for the net. His efforts were rewarded with his sixth goal of the season.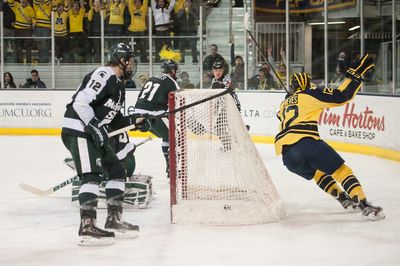 Courtney Sacco | AnnArbor.com
"It's a simple play that we need to do more often and turn into goals," said Nieves, who is now tied for the team lead in points with 19.
"He's been a dangerous player, one of our most dangerous players nearly every game, especially in the second half and it's nice to see him get rewarded," Berenson said.
Michigan State (7-17-3, 5-13-1-0) struck first, 4:53 into the first period when Brent Darnell went high on Jared Rutledge's glove side. Darnell didn't have a very good angle, but the puck found the back of the net, regardless.
It was Rutledge's first start since an exhibition loss to the U.S. National Team Development Program on Jan. 4. He finished with 21 saves. Berenson said he's leaning toward starting Rutledge on Saturday, but that the decision had not been made yet.
"I thought he played well. He won't like the first goal, but he hasn't started a game, outside of the USA game in a month and I just thought it was time," Berenson said. "He showed that he wasn't as ready in the first half of the year and I can't tell you he had a good game against the USA team, but I just thought it was time, let's see what we've got here and he came up with a good game."
Derek DeBlois evened the score at 1-1 7:20 into the second period, finishing off a perfect backdoor pass from Nieves after a giveaway in the Michigan State zone. The goal won't go down on on the scoresheet as a power play goal, but Michigan was basically still on the man-advantage with the Spartans' fifth skater still skating toward the action when DeBlois scored.
"I don't know that our power play played that well, but we took advantage of loose pucks," Berenson said. "There were a couple of loose pucks or turnovers and all of a sudden it was in the net."
Michigan has yet to sweep a series this season and therefore the players have not been able to partake in the tradition of singing the fight song in the locker room after a sweep. Saturday will be the sixth opportunity Michigan's had for a sweep this season.
"It's definitely something I want to do before my freshman year's over," Nieves said. "I think it'd be a huge confidence booster and it'd be nice to be part of that tradition."
Michigan State goalie Jake Hildebrand finished with 34 saves on the night.
Pete Cunningham covers sports for AnnArbor.com. He can be reached at petercunningham@annarbor.com. Follow him on Twitter @petcunningham.