Posted on
Fri, Dec 30, 2011 : 11:45 p.m.
Michigan hockey claims Great Lakes Invitational title with OT win against Michigan State
By Pete Cunningham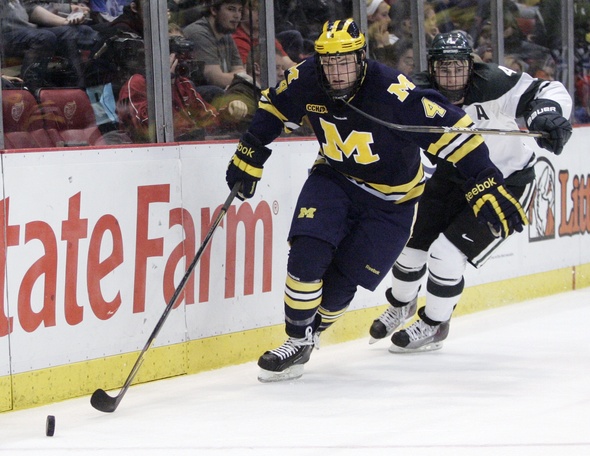 AP Photo
DETROIT -- Trailing 2-1 with a minute remaining, Michigan hockey goaltender Shawn Hunwick sprinted to the bench, giving the Wolverines six skaters to Michigan State's four.
It was a last ditch effort by Michigan, and it paid off.
Kevin Lynch snuck a shot past red-hot Michigan State goaltender Drew Palmisano to tie the game at 2-2 with 50.4 seconds left in regulation and force overtime.
Lee Moffie drew Palmisano to the right side of his crease 11:44 into overtime before sliding a pass to a wide-open Kevin Clare, who scored his second career goal to give the Wolverines their second consecutive Great Lakes Invitational title at Joe Louis Arena on Friday night.
Clare was named tournament MVP and was among several unlikely heroes for Michigan, which got its other two other goals from its fourth line.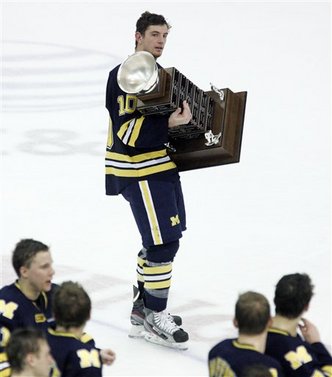 AP Photo
"They play hard every night and can play against any line. ... That's what it takes in this tournament, that's what happens," Michigan coach
Red Berenson
said. "It's not always your top scorers that score. (Clare) will remember that one for a long time."
For the majority of the first three periods, the Wolverines had no answer for Palmisano, who recorded a two-game, GLI-record 90 saves and was named to the All-Tournament team.
Even in the third period, when Michigan outshot MSU 22-3, quality scoring chances were hard to find with Palmisano either not surrendering a rebound or the Spartans quickly clearing the zone.
As Palmisano made more saves, it seemed to affect the shots taken by the Michigan.
"I like to think that when I make those saves early on, it kind of gets in opponents' heads, makes them think twice before they just (shoot) and maybe over think it, which helps us out," Palmisano said.
There was no over thinking the one-timed game-winner, but as Moffie held the puck longer and longer, it seemed maybe a result of Palmisano's earlier saves. That is until he placed a pass perfectly on Clare's stick.
"It was screen, I couldn't really see what happened and he made a great pass backdoor," Palmisano said.
Clare said time seemed to stand still as he waited for the pass.
"I could see out of the corner of my eye that the net was open and if he gives it to me I could put it in," he said. "Moffie made a great play, was patient."
The first period ended in a 0-0 tie.
Michigan outshot MSU early on, starting with a 5-1 advantage in the first five minutes. The Wolverines' best scoring chance of the period came when David Wohlberg hit Chris Brown on a two-on-one in front of the Spartan net, but Brown was unable to get any lift under his shot as Palmisano made the easy save.
Michigan State started pushing the pace during the game's first power play 10:20 into the first period. Though only managing one shot on net during the one-man advantage, Michigan was unable to clear the zone once the game returned to even strength, leading to many opportunities for the Spartans.
Tanner Sorenson broke the scoreless tie 13:59 into the second period as he carried the puck inside the Michigan blue line and fired a wrist shot past Hunwick for his first career goal.
Though it looked as though Hunwick was in position to make an easy save on the play, Berenson said the puck ramped off a defender's stick on the way to the net. Hunwick finished with 23 saves on the night.
Michigan got on the board in the third period on a rebound goal by Derek DeBlois at the 10:11 mark, but MSU countered just two minutes later in spectacular fashion. Kevin Walrod delivered a spinning backhand pass to Brett Pelini, who beat Hunwick.
A tripping penalty on Michigan State set the stage for the last-minute heroics.
"It's not something you practice very often, six on four. It's desperation hockey," Berenson said. "You're trying to get shots through and you're trying to outnumber them to loose pucks and rebounds and we just got the puck to the net and we were lucky."
Lucky or not, it was a hard loss to swallow for MSU.
"Losses like that kind of make you sick to your stomach," said Spartans defenseman Torey Krug.

Consolation Game
DETROIT (AP) — Brian Dumoulin's goal midway through the third period lifted Boston College to a 2-1 win over Michigan Tech Friday in the third-place game at the Great Lake Invitational men's hockey tournament.
Dumoulin's goal at 10:40 of the final period broke a 1-1 tie and helped the Eagles (13-7-0) rebound from Thursday's 4-2 loss to Michigan in the first round.
Boston College scored first on Chris Kreider's power-play goal at 4:04 of the first.
Michigan Tech (9-11-1) tied it on Dennis Rix's short-handed goal at 15:10 of the first.
Boston College goalie Parker Milner made 10 of his 24 saves in the third period, while Huskies goalie Josh Robinson had 23 stops.
Pete Cunningham covers sports for AnnArbor.com. He can be reached at petercunningham@annarbor.com or by phone at 734-623-2561. Follow him on Twitter @petcunningham.