Posted on
Fri, Nov 9, 2012 : 9:57 p.m.
Michigan hockey gets a much needed drama-free third period in 5-1 win over Michigan State
By Pete Cunningham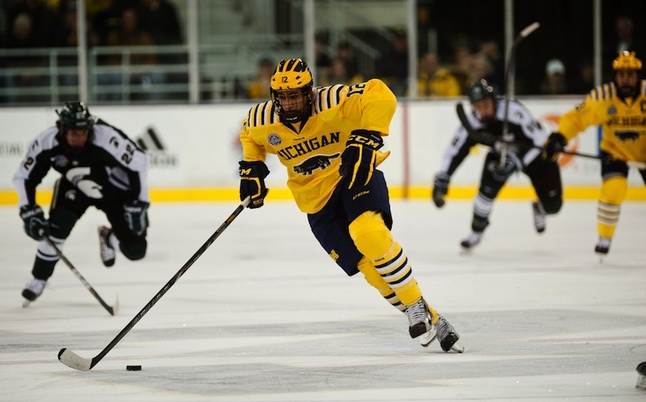 Daniel Brenner | AnnArbor.com
Updated 10:54 p.m.
If the early part of the season has taught the Michigan hockey team anything, it's that no lead is safe in the third period. In its first seven games, Michigan has come back from three-down to tie, given up a three-goal lead and lost, won a previously tied game and gone from winning by one to losing in the third period.
So though Michigan looked dominant in the first two periods against archrival Michigan State on Friday, the 2-1 lead was anything but a comfortable one.
But there was no drama or furious comebacks at Yost Ice Arena. All Michigan did was add to its lead and skate away with a 5-1 win to open up the home-and-home series with the Spartans.
"We were scoring timely goals and that was important. It's nice to see us have a strong third period," said Michigan coach Red Berenson.
Berenson was also pleased to see Michigan freshman goaltender Jared Rutledge get his first college win in net. Rutledge looked solid with 28 saves, a welcome turnaround from his first two starts.
"He's been off to a shaky start. We knew he was a good goalie inside, it just had to come out," Berenson said. "I thought he was quick and he looked comfortable, confident. Made some key saves."
"He was very good in net tonight," said junior forward Derek Deblois, who made the score 3-1 with a goal early in the third period. "Every time he needed to make a save he stepped up, which is great."
Lindsay Sparks got the scoring going for Michigan early in the first period taking a cross-ice, two-line pass from Justin Selman and ripping a left handed slap shot low to beat Michigan State goaltender Will Yanakeff six minutes and 55 seconds into the first period.
The Wolverines (4-3-1, 2-2-1-1 CCHA) doubled their lead in confusing fashion halfway through the period as Cristoval "Boo" Nieves cleaned up an Alex Guptill rebound for his first career goal, sending the Yost faithful into a chorus of "Boo"s. The goal went under referee review which incited a more traditional form of booing.
The goal was upheld, so the fans booed, naturally.
Though dominating the flow of the game in the second period, Michigan couldn't add to its lead. With 36 seconds remaining in the period, Kevin Walrod lifted a backhand shot over the glove of Rutledge to make the score 2-1 and give the Spartans life.
"I thought we got cute (in the second period) and maybe got over confident and they pushed back," Berenson said. "That was just poor hockey on our part and good hockey on their part."
Michigan finally did add to its lead in the third period as DeBlois took advantage of a State giveaway on a bad clearance and put a quick wrist shot past Yanakeff.
Kevin Lynch and Jacob Trouba finished off the scoring with goals with 4:32 and 1:59 remaining, respectively.
Lynch's goal came after an otherwise frustrating night where he was stopped on the doorstep on multiple occasions.
"It was a little embarrassing on a couple of them...Derek (DeBlois) and Phil (Di Giuseppe) played great tonight. They found me open a couple times but I couldn't finish, luckily they kept with me and I got one at the end there," said Lynch.
Throughout his career, the rivalry with Michigan State (3-5-1, 2-3-0-0) has brought out the best in Lynch, who leads the team with nine points (five goals, four assists) against the Spartans.
Lynch will get another opportunity to add to that point total on Saturday as Michigan travels to East Lansing to take on the Spartans at Munn Ice Arena (7:35 p.m., Xfinity 900).
Pete Cunningham covers sports for AnnArbor.com. He can be reached at petercunningham@annarbor.com. Follow him on Twitter @petcunningham.