Posted on
Sat, Mar 24, 2012 : 12:09 a.m.
OT upset: Cornell eliminates Michigan from NCAA hockey tournament, 3-2
By Pete Cunningham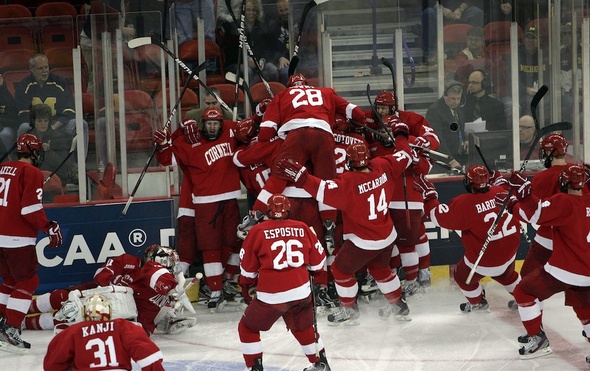 Cornell Athletic Communications
Updated at 2:03 a.m.
GREEN BAY, Wisc. -- Cornell hockey coach Mike Schafer called the fastest timeout of his 22-year coaching career on Friday night.
It was also the most effective.
Ninety-three seconds into the first period of a Midwest Regional semifinal at the Resch Center, Michigan had already scored two goals on its first two shifts. Schafer called a timeout so the team could regain its composure and help slow the momentum of Michigan's offense. He got more than he bargained for as the referees -- who were ready to drop the puck before the timeout -- reviewed and eventually disallowed Lynch's goal.
Had play resumed, the goal would not have been reviewable.
Lynch would get his goal back fifty-four minutes later, with just 4:01 left in regulation to force overtime, but it was a different game by then and the goal would only delay the heartbreak. Cornell's Rodger Craig scored 3:35 into overtime to beat No. 1 seed Michigan, 3-2, and end the Wolverines' season.
Cornell will face CCHA regular-season champion Ferris State in the regional final Saturday night, with the winner advancing to the Frozen Four in Tampa, Fla. Ferris State beat Denver, 2-1, in Friday's first semifinal.
Leaving the Michigan locker room after the game, captain Luke Glendening could barely muster the words to describe the end to his Michigan career. His last tournament run ended as his first one did his freshman year, with a first-round defeat.
"It's disappointing to end my career like this," said Glendening, slow in his speech still seemingly in awe that his Michigan career was over. "It's not about me, but it's definitely frustrating."
Michigan coach Red Berenson lamented that it wasn't the story book ending he had hoped for senior goalie Shawn Hunwick, the former walk-on who -- when his career began -- never thought it would end like this because he didn't think he'd see much, if any playing time and he'd be gone by 2011.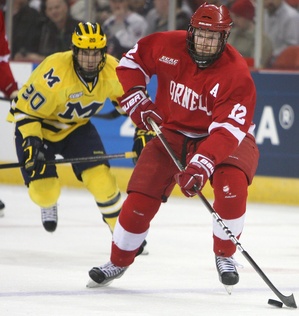 Cornell Athletic Communications
And he was fine with that.
But as Hunwick evolved from the too-small walk-on to a top-10 Hobey Baker Award finalist, so too did his expectations. So on Friday, he was again in disbelief.
This wasn't what he came back for a fifth year for.
"I don't think it really hits you yet when your season ends that quickly, you know, one shot," said Hunwick, who finished with 21 saves. "You never want to give up a goal to end the season, to end your career, and it's happened the past three seasons with overtime."
A statement from game officials said there was "illegal contact" with Cornell goalie Andy Iles in his crease "that did not allow him to play his position" on Lynch's goal.
Schafer initially thought the goal would be reviewed, which would give his team time to regain its composure without burning the timeout so early in the game. When the officials indicated they weren't going to look at a replay, he decided he didn't care how early it was, his team needed time or this one could get away from them quickly.
"I was like, we need to regroup here, and then they went over during the timeout and took a look at it," Schafer said.
Berenson wasn't surprised at the timeout, but was with the result.
"I thought they called the timeout because of the momentum. I mean obviously we'd scored two goals in a minute-and-a-half and if I were their coach I'd probably call a timeout, too," Berenson said. "Goals are precious this time of year. ... I don't think it deflated our team, but obviously it didn't excite us."
Fourth-seeded Cornell (19-9-7) evened the score later in the period on a power play goal by John McCarron.
Special teams played a huge factor in the second period, starting when Michigan gave up its first shorthanded goal of the season just 40 seconds into the period, with Joakim Ryan finishing off a two-on-one rush.
Eight more penalties would be called in the frame, including a game-misconduct to Cornell's Armand de Swardt. A hooking penalty to Michigan's Jon Merrill led to a Cornell penalty shot, which Hunwick stopped to keep the score 2-1 heading into the third period.
Michigan (25-13-4) spent a total of 9:37 on the power play in the period, including 2:12 of 5-on-3 hockey. But the Wolverines couldn't get past goalie Iles, who was rarely out of position, making 17 saves in the period, most of the routine variety. Cornell had only managed 15 shots for the entire game to that point.
Iles was beat on a Luke Moffatt shot with less than two minutes remaining in the period, but got some help from his goalpost.
"Our penalty killers tonight were just unbelievable, especially on that 5-on-3," said Iles, who finished with 31 saves. "There were some shot blocks that probably go unnoticed...we were able to build off that momentum going into the third."
Craig's goal was just his second of the season, both game-winners.
"Anything can happen in the overtime," Berenson said. "Someobody can score their second goal of the year and that's the way it is."
Contact Pete Cunningham at petercunningham@annarbor.com or by phone at 734-623-2561. Follow him on Twitter @petcunningham.