Posted on
Fri, Dec 14, 2012 : 9:56 p.m.
Michigan hockey continues going from bad to worse after 4-1 loss to WMU; team off to worst start since 1986
By Pete Cunningham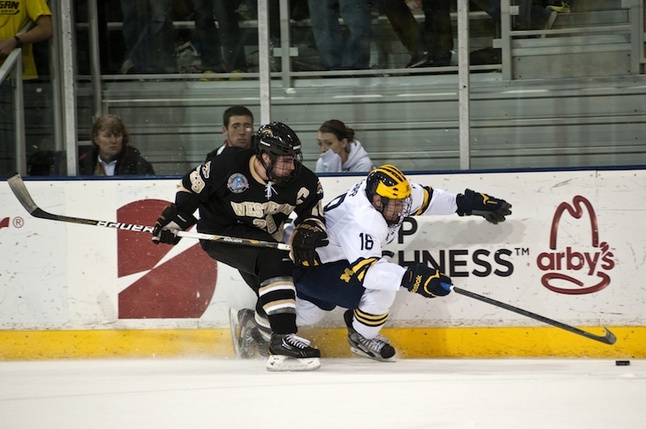 Joseph Tobianski | AnnArbor.com
This file will be updated.
For the Michigan hockey team, it hasn't been this bad in a while. Twenty six years to be exact.
Friday night, it got worse.
Michigan lost 4-1 to Western Michigan at Yost Ice Arena on Friday night, dropping its record to 5-9-2 (3-7-2-2 CCHA) on the year. One game shy of the official halfway point of the season, Michigan is off to its worst start since going 6-14 to begin the 1986-87 season.
Back then, Michigan coach Red Berenson was in just his third year on the job and his hair still matched his nickname. Berenson's cowlick has long since greyed and Michigan's performance Friday certainly did nothing to slow that process.
"I sit up here like I'm supposed to have wise words. I really don't have any wise words. I feel like we're just making too many excuses game after game." Berenson said at the post-game press conference. "We're getting an effort every night, but we're not getting enough second efforts every night...Michigan teams that have done well, we've had a lot of second effort hockey around that puck and we're just not getting that right now."
More coverage: Photo Gallery | Boxscore
It wasn't necessarily what Western was doing, but what Michigan wasn't. In a mistake-riddled game, the Wolverines continually shot themselves in the foot.
Western's first goal came in the first period after captain A.J. Treais turned toward his own net deep in Michigan's zone, then turned the puck over on an ill-advised pass across the mouth of the goal. Western went up 3-0 in the second period when an untimely four-man line change left the Broncos with a 3-on-1 rush and the goal in between came with under a minute to play in the first period.
Crossing the puck across your own net into a crowd deep in your own zone? Giving up a goal in the final minute of a period? A four-man line-change when the opposition has the puck and numbers near mid-ice? All basic "don'ts" in Hockey 101, and atypical of Berenson's coached teams, especially during the past 22 years during which Michigan has qualified for the NCAA Tournament every single season.
If the Wolverines hope to extend the nation's longest tournament qualifying streak, they have a long way to go, and that much was clear on Friday.
"We just need to get going. This isn't about Western, this is about Michigan. And we need to get going and we need to take a step forward," Berenson said. "We were hoping to put our best game out there and it never happened. And you can't give up goals as easy as we did too. …Clearing passes, just shouldn't happen."
In the first period, Michigan had an opportunity to even the score when Western took two penalties in quick succession giving the Wolverines a 5-on-3 advantage for a minute, 14 seconds. But Michigan didn't even get a shot off, and actually nearly was scored on themselves when Garrett Haar rang a shot off the post after a Michigan turnover.
"That's obviously not good," Michigan captain Kevin Lynch said after the game. "Especially when you have two more players, you should get some grade-A scoring chances, and like I said we're just trying to make too many cute passes and just not getting pucks to the net.
"We made it easy on the goalie tonight. Not shooting enough on him."
Western (11-3-1, 8-2-1-1 CCHA) outshot Michigan 25-11 through the first two periods. Michigan outshot the Broncos 13-3 in the third.
Michigan's best opportunity of the night came in the first period came on a two-on-one, but after sliding to the backdoor unmarked, Justin Selman fanned on a cross-ice pass from Andrew Copp with 1:24 remaining. Western responded with a goal on its next posession and instead of heading to the locker room even 1-1, Michigan was down took a 2-0 at the first intermission.
Justin Kovacs made the score 3-0 before Phil Di Giuseppe finally put Michigan on the board with 6:11 remaining in the second. It was Di Giuseppe's second goal of the season and his first in more than two months.
"The second period's been a bugaboo of late," Berenson said. "It's disappointing. Our team's trying, I mean everybody in there's trying, they're excited, proud of playing for Michigan, but did they bring their A-game tonight? And you just don't bring it and put it in your pocket, I mean you're A-game has to happen on the ice and you have to make it happen."
Western added an empty-net goal with less than a minute to go.
The teams conclude the series on Saturday (7:35 p.m.) at Yost.
Pete Cunningham covers sports for AnnArbor.com. He can be reached at petercunningham@annarbor.com. Follow him on Twitter @petcunningham.