Posted on
Fri, May 14, 2010 : 3:08 p.m.
Michigan women's basketball point guard Dayeesha Hollins leaves program
By Jeff Arnold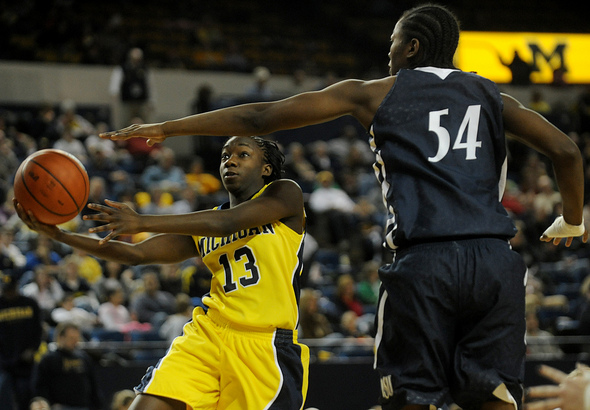 It didn't take long for Dayeesha Hollins to make her mark on Michigan's women's basketball team.
The freshman point guard gave the Wolverines a bonafide playmaker, using her natural abilities to become one of the Big Ten's top up-and-coming players.
But on Friday, Michigan coach Kevin Borseth announced that the Cincinnati native left the program to transfer to a school closer to home. Hollins has not decided where she will continue her collegiate career, according to a release issued Friday afternoon.
"It has been an extremely difficult process for me in coming to the decision to leave the University of Michigan," Hollins said in a statement. "The commitment that I made to the team and the University weighed heavily on me. I have also made some wonderful friends and enjoyed my time on the beautiful campus. Unfortunately, I also went through some personal struggles being away from home."
In her freshman season, Hollins played in 35 games with 34 career starts. She averaged 12 points, 3.4 rebounds and three assists per game. Hollins' lay-up with 17 seconds remaining lifted Michigan to an upset victory over No. 8 Xavier in front of friends and family in Cincinnati - the first of several solid performances during her only year with the Wolverines.
"I have always been very close to my family, and I learned that I still need their support on a daily basis," Hollins said. "It was hard for my mom to travel constantly to see me and be there for me and I feel it's best for me to try and get closer to home. Coach Borseth is a great coach and leaving him and the team is very difficult. I pray for the team's continued success and I thank the university for giving me this opportunity."
Hollins was one of only three Michigan players to average in double figures, joining fellow guards Veronica Hicks (13.2 ppg.) and Carmen Reynolds (13.1 ppg.).
"Dayeesha is a fine young lady and a terrific basketball player," Borseth said in a statement. "We wish her success in all her future endeavors."
Jeff Arnold covers sports for AnnArbor.com and can be reached at (734) 623-2554 or by e-mail at jeffarnold@annarbor.com. Follow him on Twitter @jeffreyparnold.