Posted on
Mon, Mar 18, 2013 : 7:20 p.m.
Michigan women's basketball team receives No. 8 seed in NCAA tournament
By Pete Cunningham
First-year Michigan women's basketball coach Kim Barnes Arico made sure to congratulate her team on a season well-played before ESPN's broadcast of the NCAA Tournament selections.
At 21-10 and with a No. 34 RPI, Michigan seemed a shoo-in, but nothing is guaranteed.
"Let's be hopeful and enjoy the moment," Barnes Arico said, and for a moment it almost seemed like she was preparing them for bad news.
It didn't seem that way for long as Wolverines were promptly announced as the No. 8 seed in the Spokane, Wash. region. Michigan will take on Villanova (21-10) on Sunday at 7:30 p.m. (ESPN2) in Palo Alto, Calif., home of the region's No. 1 seed, Stanford.
"It kind of calms the nerves. It's just exciting to hear your name in general," said Michigan senior Rachel Scheffer. "We were called so early, so it kind of was a relief."
Michigan's game against the No. 9 seed Wildcats was the second matchup announced during Tuesday's hour-long broadcast.
"I think that's the earliest I've ever been called going into the NCAA tournament," said Barnes Arico, who led St. John's to four tournament berths in her 10 years there. "It's kind of nice you get to relax and enjoy it while everyone else is sweating it out, so I thought it was kind of nice we were called early.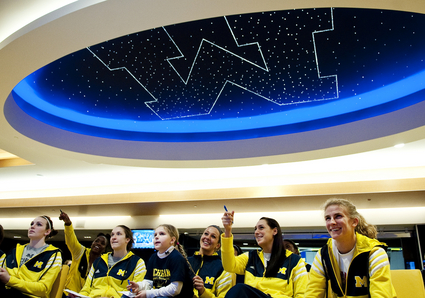 Daniel Brenner | AnnArbor.com
"We could kind of relax and not feel that pressure."
Barnes Arico joked before the show started about senior captain Jenny Ryan's nervousness. Ryan said she wasn't as nervous as last year's selection show, but that the butterflies didn't totally subside until she saw her team's name on the screen.
"I think our odds this year were a lot better of getting in, I think last year it was kind of the flip of a coin," Ryan said. "Today I was little more at ease, I was able to just kind of enjoy the show, whereas last year I was freaking out."
Monday's selection marked the first time Michigan has been selected in back-to-back years since 2000-2001. Michigan was a No. 8 seed both those years as well, which is as high as the team has ever been seeded in the tournament.
Michigan is 2-5 overall in five tournament appearances and has never advanced past the second round. It will be a tall order for Michigan to change that this year with the winner of its game set to play the region's top seed, Stanford, in the second round next Tuesday.
Stanford is 31-2 on the season and the only team to defeat No. 1 overall seed and defending national champions Baylor all year.
Barnes Arico acknowledged the historical domination of No. 1 seeds historically in the women's tournament, but sees the potential Stanford matchup as an opportunity.
"Anything is possible if you get things to go your way," Barnes Arico said. "If you hang around long enough you never know what could happen."
But before shifting focus to the second round, the Wolverines will have to get by a Villanova team very similar to itself. Both teams have identical records and rely heavily on the 3-pointer.
Last year team made the tournament for the first time in 11 years and on Monday Barnes Arico became the first coach in program history to make the tournament in her first year at the helm.
"I think last year kind of gave them a little bit of a taste of it and now this year our expectations have changed a little bit. You're not just happy to get there anymore, you want to be successful when you get there," Barnes Arico said. "I think our senior class really wanted to create something special and they've been able to do that and I know that we don't want it to end here, we want it to continue going forward."
Pete Cunningham covers sports for AnnArbor.com. He can be reached at petercunningham@annarbor.com. Follow him on Twitter @petcunningham.