Posted on
Thu, Feb 16, 2012 : 10 a.m.
Michigan women's gymnastics team hosts No. 1 Utah Friday and more notes
By Matt Durr
As the Michigan women's gymnastics team approaches the halfway point of the season, head coach Bev Plocki feels her team is peaking for the meet Friday against Utah, the top-ranked team in the country.
"I feel really good about where we are and the strides we are starting to make," Plocki said. "If we go out there and are consistent and hit our routines, they're talented enough and very capable of scoring very, very well."
Utah (4-1) owns the No. 1 ranking for the third consecutive week, and its average team score of 196.855 leads the nation. No. 21 Michigan (6-1, 3-1 Big Ten), a team without a senior, scored a season-best 195.825 Saturday while finishing second at the Masters Classic at Nebraska.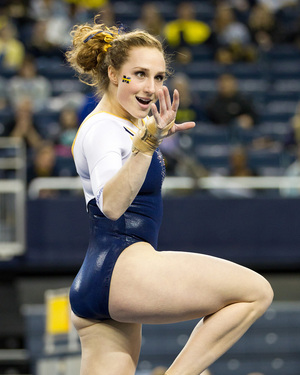 Eric Bronson | Michigan Athletics
"Going against the higher competition is always amazing because it raises the bar for yourself and what you need to do," said Michigan sophomore
Shelby Gies, who scored 9.800 on the beam at Nebraska.
"If you want to be the best you got to compete against the best, too."
After some early-season struggles the Wolverines put together their best meet of the season at Nebraska, finishing second to the Cornhuskers and ahead of Washington and Southern Utah.
"I think we're really confident, especially after last weekend," said junior Katie Zurales. "I think we're ready to go out there do our job and hit the best routines that we can. We're in our home arena, with our home crowd, it's going to be great, it's going to be really exciting."
While Utah may be ranked No. 1, Plocki knows her team will be ready to compete, especially in front of Michigan fans.
"We are certainly not going into this meet against Utah thinking that we're going to finish second," Plocki said. "This is our home arena."
The meet starts Friday at 6 p.m. and will be at Crisler Center Tickets are available at mgoblue.com/tickets or call 866-296-MTIX (6849).
Pair of Michigan runners earn spots on U.S. team
University of Michigan cross country freshmen Shannon Osika and Ellen Junewick earned spots on the U.S. team that will compete in the North America, Central American, & Caribbean Cross Country Championships on March 17 in Port of Spain, Trinidad.
"It's such an honor, and I honestly can't believe all the wonderful opportunities I've been given at Michigan. I know me and Shannon are going to go and do our best," Junewick said.
The duo earned their spots by competing at the 2012 USA Cross Country Championships Junior 6K race Saturday. Osika (Waterford/Mott) took first place overall and Junewick (Grand Rapids/Forest Hills Eastern) fourth with times of 21:04.3 and 21:16.0, respectively.
"I knew I had a shot just because of how I've been working out. But I didn't know who was going to be there and I wasn't really going for the win, I just wanted to make it really bad," Osika said. "I'm really excited; I realized this is kind of a big deal. It'll be really cool to put on a USA uniform and have a fresh team."
Youth leading Michigan men's tennis team
With no seniors and one junior on the roster, the U-M men's tennis team, there has been plenty of opportunity for growth from the young squad. Despite the lack of senior leadership, the team has started the season 4-3 and had won three straight meets before losing to Washington last weekend.
Junior Evan King is ranked sixth in the nation in singles with a record of 17-6 at No.1 singles. King and sophomore Shaun Bernstein are the No. 1 doubles team for the Wolverines and are the No. 22-ranked doubles team in the country.
Freshmen Alex Petrone and Michael Zhu have spent the season as the No.3 and No.4 singles players on the squad and have shown head coach Bruce Berque an eagerness to improve and learn.
Notre Dame visits Ann Arbor on Saturday at 3 p.m. for a meet at the Varsity Tennis Center.
Upcoming home schedule:
Thursday:
Michigan women's basketball - 7 p.m. vs. Iowa at Crisler Center
Friday:
Michigan women's gymnastics - 6 p.m. vs. Utah at Crisler Center
Michigan hockey - 7:35 p.m. vs. Northern Michigan at Yost Ice Arena
Saturday:
Michigan women's track - 11 a.m. Silverston Invitational at U-M Indoor Track Building
Michigan men's track - 11 a.m. Silverston Invitational at U-M Indoor Track Building
Michigan men's tennis - 3 p.m. vs. Notre Dame and Varsity Tennis Center
Michigan hockey - 5:05 vs. Northern Michigan at Yost Ice Arena
Michigan men's gymnastics - 7 p.m. vs. Ohio State, SUNY, Brockport at Cliff Keen Arena Michigan men's basketball - 9 p.m. vs. Ohio State at Crisler Center
Tuesday:
Eastern Michigan women's basketball - 7 p.m. vs. Toledo at Convocation Center
Wednesday:
Eastern Michigan men's basketball - 7 p.m. vs. Northern Illinois at Convocation Center