Posted on
Sat, Nov 7, 2009 : 6 p.m.
Illegal forward pass a microcosm of Michigan's football season
By Michael Rothstein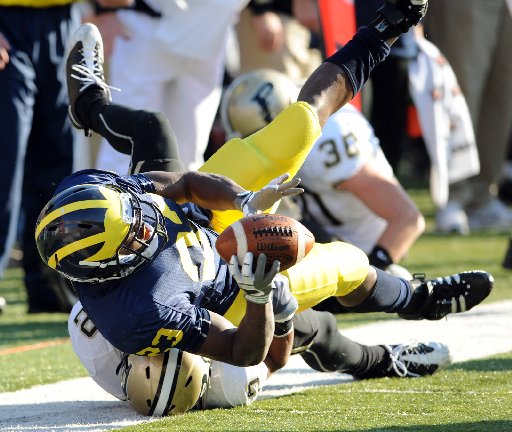 Carlos Brown
felt himself wrapped up by the Purdue defender, stuck, stopped. It was fourth down, Michigan trailed by eight points and he needed to pick up the first down to save the game.
Save the season.
With Purdue's Torri Williams attached to him, Brown saw a Michigan lineman lumbering toward him. He did the only thing he could think of doing. He pitched it.
And the play, initially, was successful. But as has been the case for Michigan during this Big Ten season, it didn't end well.
"I wasn't like 'Oh, I gotta get it behind me,'" Brown said after the game. "But I just instinctually thought; I tossed it behind me."
The officials deemed it too close to call and couldn't make the ruling that it was a forward lateral.
Meanwhile, Purdue's coaches hooted and hollered, but were powerless without a challenge to use. Then came the signal from above.
Review. Replay. Overturned. Purdue's ball.
"It would have not changed anything if they challenged it or the booth buzzed it," said Todd Geerlings, the referee for Saturday's game. "We looked at the same things and what we found was that the ball was clearly forward from the time it left the passer's hand to touching the hand of the receiver."
Looking for a capper on three straight weeks of second-half failure? That was it for Michigan. Looking for a reason to understand how Michigan reached this point, falling for the second straight week to a team hoping for bowl eligibility only by winning out? The second half Saturday was the reason.
Michigan, a team that needs one win to be bowl eligible - its last best chance disappeared in the field turf and a litany of mistakes.
There was the illegal forward lateral from Brown to Mark Huyge. There was the onside kick recovered by Purdue after the Boilermakers scored to cut Michigan's lead to 30-24. Up to that point, Michigan had control of the game and looked like it would be bowling in Detroit or Orlando or Phoenix.
Then freshman Mike Jones didn't pay attention on a surprise onside kick, Purdue recovered and on the next play, Purdue quarterback Joey Elliott hit Cortez Smith for a 54-yard, bowl-crushing touchdown.
"The onside kick, that was really disappointing," Michigan coach Rich Rodriguez said. "We go out there and every time there's about 20 people yelling 'See the ball kicked.'
"…It's the first reminder and the last reminder and that's what we do, for that reason. Freshmen, you know, sometimes play like freshmen and bail out."
Rodriguez was talking about position. He very easily could have meant his team the past month of the season.
The quick change in momentum mirrored a week ago, when Illinois took over the game in a two-minute spurt that sent Michigan spiraling.
But there were signs of this earlier in the season.
There was the lack of any effort against Penn State.
The five-interception performance against Iowa.
And it started with the first loss of the season and the Tate Forcier interception against Michigan State in overtime.
From that point, it seemed like Michigan's confidence was fragile.
Which leads back to Brown, and the desperation toss the fifth-year senior made. The head linesman, Geerlings said, didn't have the perfect line on it and told Geerlings he felt it was "very, very close."
Much like Michigan's season, the Wolverines at points have been very, very close to a breakthrough. And like all of those other times, it ended up going exactly the opposite of how Michigan wanted.
It's why Brown's thoughts after the overturned call almost sum up Michigan's October and early November.
"I was like 'Damn,'" Brown said. "I wish I could go back and, you know what I'm saying, make sure I pitched it behind me."
Michael Rothstein covers University of Michigan sports for AnnArbor.com. He can be reached at (734) 623-2558, by e-mail at michaelrothstein@annarbor.com or follow along on Twitter @mikerothstein.