Posted on
Sat, Mar 17, 2012 : 9:40 p.m.
Michigan's Kellen Russell wins second straight NCAA wrestling title
By AnnArbor.com Staff
Michigan senior Kellen Russell used an overtime takedown to win his second straight wrestling national title Saturday in St. Louis.
Russell, the top seed in the 141-pound weight class, beat Iowa's Montell Marion, 6-4, with 23 seconds left in the sudden-victory overtime session of the NCAA Championships at the Scottrade Center, becoming the sixth Michigan wrestler to win multiple NCAA titles.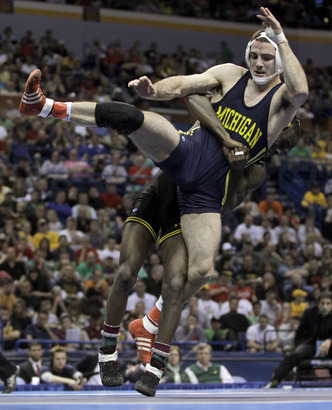 Associated Press
After leading early in the match, Marion tied the score at 4-4 late in regulation to force the one-minute sudden victory period.
The fifth-year senior from High Bridge, N.J., finished the season with a 33-1 record and a career mark of 134-12, tied for eighth-best in school history. His .918 win percentage is the the program's second-best total.
Michigan senior Zac Stevens also won his final college match, beating Harvard's Steven Keith in the seventh-place match at 133 pounds.
According to MGoBlue.com, Russell joins Snip Nalan (1953, 1954), Dave Porter (1966, 1968), Jarrett Hubbard (1973, 1974), Mark Churella (1977, 1978, 1979) and Ryan Bertin (2003, 2005) as Michigan's multiple-time NCAA champions.
Immediately following his second title, Russell wasn't ready to consider his legacy at Michigan.
"I never really thought about it. I don't think about it too much. I see guys like Mark Churella Sr., who comes in once in a while; to me he's like a hero -- three-time national champ and he's a great guy," Russell said. "I don't really look at myself that way. I'm really thankful for the people who got me to Michigan and the guys who came before me, because without them I definitely wouldn't be where I am today.
"Hopefully I can just kind of have that impact on some guys that are coming in and try to mentor them like they mentored me and make sure they're making the right decisions, off the mat as well as on the mat."
Michigan's Big Ten rival, Penn State, won its second straight team title before the final round, and kept charging.
David Taylor, Ed Ruth and Frank Molinaro wrapped up unbeaten seasons with individual titles and two underdogs were runner-ups for the Nittany Lions, who totaled 143 points for a 25 1/2-point cushion over Minnesota.
Minnesota scored 117 1/2 points, Iowa was third with 107 1/2 points and Cornell fourth with 102 1/2.
The three-day tournament, held in St. Louis for the sixth time since 2000, was sold out and set an attendance record of 112,393.
Russell was one of seven top seeds to win their weight class.
The Associated Press contributed to this story.