Posted on
Wed, Apr 14, 2010 : 1:17 p.m.
Louie Caporusso, Carl Hagelin ready to take charge of Michigan hockey team
By Jeff Arnold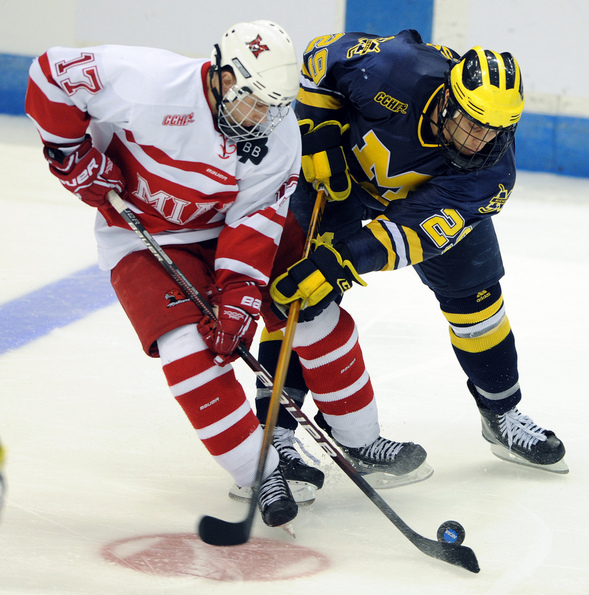 Louie Caporusso and Carl Hagelin clicked from the moment they met.
They arrived in Ann Arbor three years ago as part of the same freshman class. Caporusso, a Canadian, and Hagelin, a Swede, were uncertain of how they'd fit into a new culture, but confident the game they grew up playing would bind them.
It didn't take long.
Caporusso and Hagelin saw a lot of themselves in each other, exhibiting the same laid-back styles as well as desires to leave their individual marks on the Michigan hockey program.
"It was weird, but I think we both clicked because we didn't click with the Americans," Caporusso said.
Both players have one year remaining to capture a national championship. In order to avoid some of the pitfalls the Wolverines experienced this year, Caporusso and Hagelin plan to take charge this off-season. 
"We want to be the leaders on this team and we want to lead our team to the championship," Caporusso said this week. "We're going to take that responsibility and we're fine with that. That's the position you want to be in. You want people to count on you.
"That's pressure, but pressure leads to excitement."
Caporusso and Hagelin were dependable producers for the Wolverines this past season. Hagelin, who captured three year-end awards, including the team's Most Valuable Player honor, finished with 19 goals and 31 assists. Caporusso led the Wolverines in goal-scoring (21) to go with 22 assists.
The two roommates find themselves thinking alike - not only when it comes to hockey, but also in everyday life.
Hagelin credits Caporusso for loosening him up and for helping him establish a championship mindset. In Hagelin, Caporusso has been given an example of work ethic and commitment while also picking up a teacher in conversational Swedish that he hopes will pay off when the two travel to Hagelin's homeland this summer.
"It was kind of hard in the beginning with the language barrier and all that stuff," Hagelin said. "But Louie was one of the guys that really took care of me."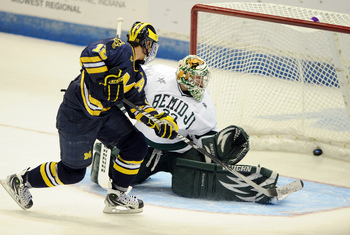 Michigan returns nine seniors, including goalies Bryan Hogan and Shawn Hunwick, both of whom will contend for the starting job in the fall. Michigan will also have experienced defensemen in Chad Langlais and Tristin Llewellyn, helping construct what Berenson believes has the makings of a very special senior class.
"We're seasoned now and this is when you're supposed to produce," Caporusso said. "If you're not going to produce your senior year, then you really haven't done anything. You get your pass the first couple of years, but now, you've got to produce and you've got to win a championship, or else you didn't do what you came here to do."
While each senior class has produced its own style, Michigan's new senior leadership duo will take what they have learned from veterans before them, hoping to produce similar results en route to a trip to next year's Frozen Four in St. Paul, Minn., hoping to add to the Wolverines' collection of nine national championships.
"You want to have your best year your senior year," Hagelin said. "You want to be the guy that not only the team remembers, but that the whole university remembers."
Jeff Arnold covers Michigan hockey for AnnArbor.com. He can be reached at jeffarnold@annarbor.com or 734-623-2554. Follow him at Twitter @jeffreyparnold.