Posted on
Mon, Feb 14, 2011 : 7:52 p.m.
15 minutes of fame continues with ESPN2 appearance for Michigan hockey player Louie Caporusso
By Jeff Arnold
When you're blessed with a name like Luigi Caporusso, it seems only appropriate that love and matters of the heart would be a natural fit.
Especially when you're willing to put yourself on video display, billed as the Michigan hockey team's love expert.
But just when Wolverines' alternate captain -- more commonly known as Louie Caporusso -- thought he had gotten as much mileage out of a 56-second video promoting a Valentine's Day contest sponsored by Michigan's athletic department as he possibly could, the spotlight became even brighter Monday.
Caporusso appeared on ESPN2's "First Take" Monday morning to discuss a video that now has drawn close to 19,000 hits.
Caporusso said he never expected the video to take off like it has, especially after it put him in front of a television camera talking with co-host Dana Jacobson.
"For the first time, I was actually nervous in front of the camera," Caporusso admitted Monday afternoon. "I'm usually pretty calm, but I wasn't in my element."
The video, first released last week by MGoBlue.com, pegs Caporusso as Michigan's resident Romeo, but states that even with Louie's luck with the ladies, Caporusso still needs a Valentine's Day survival kit.
Over the next 50 seconds, Caporusso is hit -- literally -- with teddy bears, candles, love coupons and doused with what appears to be cologne and perfume, all while Caporusso struggles to remain in character as a "cheesy infomercial kind of a guy."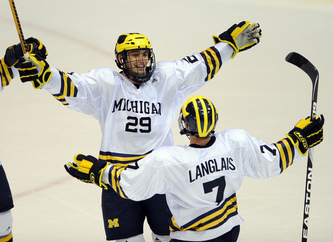 Jacobson, who graduated from Michigan in 1993, said Monday night she fell in love instantly with the video after seeing it Sunday. With Monday being Valentine's Day, she and the show's producers felt it was the kind of light-hearted segment they were looking for.
"I like when guys will show that side of their personality," Jacobson said. "It was funny, absolutely hysterical. On a scale of 1 to 10, he was a 10."
Caporusso wasn't so sure. He said he was more intimidated by the enormity of a nationally-televised interview than he was by talking about his new reputation as a love expert.
"I wake up in the morning and I watch SportsCenter and I don't expect to see my face on there," Caporusso said. "I mean, they were talking about (Rajon) Rondo and (Dwyane) Wade and (LeBron) James and now, here's Louie Caporusso.
"I was like, 'Yeah, put me in the same sentence -- that's great.'"
With no date secured for Monday night, Caporusso told Jacobson he would likely stay at home and watch TV. Later Monday, he joked that he should have asked Jacobson out, making the most of his ESPN appearance.
For her part, Jacobson said she has been asked out by guests before and that she would have been flattered by an offer for Caporusso, who she characterized as a "funny, sweet kid"
Caporusso said Monday afternoon he still had no plans outside of staying home with teammate Carl Hagelin, whose father was cooking Swedish meatballs. Date or no date, Hagelin - Caporusso's roommate - said he was impressed with his teammate's Valentine's Day performance.
"He did a really good job," Hagelin said Monday. "He's a really fun guy and hopefully, the girls kind of liked it."
Among those not caught up in the Louie Love Fest was Michigan coach Red Berenson, who said Monday he had not seen more than a few snippets of the video.
Caporusso told Jacobson that he didn't think his 71-year-old coach would be impressed, wishing his alternate captain would remain focused on hockey. Thankfully for Caporusso, the TV appearance came after the No. 11-ranked Wolverines swept Ohio State, getting a goal and an assist from Michigan's new media star.
Still, Berenson wanted no part of it all.
"I'm not interested (in the video)," Berenson said Monday.
So how does he feel about Caporusso's new reputation as a love expert?
"Well, when it's Louie," Berenson said. "Louie is a character and Louie is Italian so..."
Jeff Arnold covers Michigan hockey for AnnArbor.com and can be reached at (734) 623-2554 or by e-mail at jeffarnold@annarbor.com. Follow him on Twitter @jeffreyparnold.