Posted on
Thu, May 27, 2010 : 8:27 a.m.
Michigan's Matt Miller sparks Wolverines' pitching staff at perfect time - heading into Big Ten Tournament
By Jeff Arnold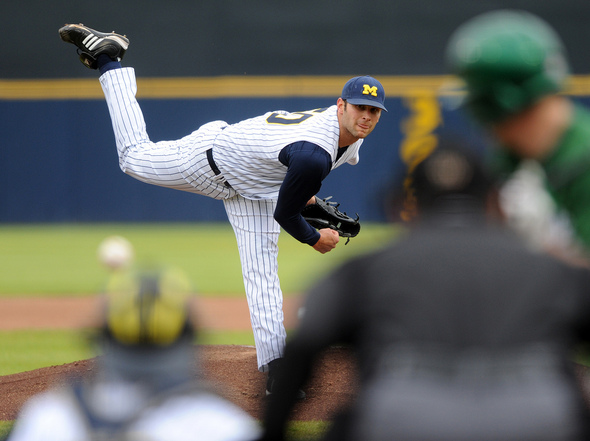 The more pitches Matt Miller threw, the more he struggled. The more he struggled, the more he began to doubt himself and hurt the Michigan baseball team's pitching staff.
The junior right-hander realized if he was going to impact the Wolverines, he'd have to make changes.
Modifications were made on a daily basis, first by taking pitches out of his repertoire and then by honing what was left.
By season's end, with Michigan in the midst of a Big Ten championship push, it was Miller, who had fought inconsistency all year, who became the pitcher that defined reliability at a time when his team needed him most.
He will now be the team's third starter in this weekend's Big Ten Conference tournament, in which No. 2-seeded Michigan must capture a championship to gain a spot in the NCAA Tournament.
The Wolverines (34-20) will face No. 4 Iowa at 3:35 p.m. today after earning a first-round bye for the tournament in Columbus, Ohio. The Hawkeyes knocked off Purdue in a first-round game on Wednesday. The winner advances to face either top-seeded Minnesota or No. 6 Indiana on Friday.
Throughout the spring, the 6-foot-6 Miller had shown flashes of brilliance, overpowering hitters with a fastball that hovered in the mid-90s - the product of an arm that Michigan coach Rich Maloney always felt was special.
Finding the strike zone on a regular basis, though, forced Miller to reassess his approach.
"It's tough because not only you, but the coaches are looking for a simple answer and it's not always like that," Miller said Wednesday. "It's going to take time for things to start turning over like it used to. So it was tough to be patient in the middle of the season when things obviously weren't going my way."
After using a blend of pitches early on, Miller devoted himself to relying more on his fastball and painting the corners of both side of the plate. He made changes on the fly, working on little things on a daily basis, doing anything he could to string more solid innings together.
The effort came with mixed results.
At times, he proved virtually untouchable. Other nights, he couldn't get batters out. The toughest part was remaining patient when Michigan needed reliable bullpen help during a season in which the Wolverines have had 22 games decided by two runs or less.
Miller limited the number of pitches he threw while using his power to make his fastball more effective.
"Now, it seems like Matt's arriving," Maloney said. "In the big scheme of life, we always don't get to where we want to be right when we want to be there. Sometimes, there's a different plan for when things happened. That's what happened with Matt."
When Miller proved his ability to keep the ball down in the strike zone while controlling both sides of the plate, success wasn't far behind.
In Michigan's historic 15-14 come-from-behind victory over Northwestern on May 16, Miller threw 5.2 innings of scoreless baseball, striking out seven and allowing only two hits. The Wolverines came back from a 14-0 deficit, not only keeping Michigan's conference title hopes alive, but allowing for the performance Miller had been waiting.
"I think that was an outing that I really put it together for an extended period of time," Miller said.
Miller has won two straight decisions, both in a relief role. In outings against Northwestern and Penn State, Miller hasn't allowed a run in 13.1 innings - a stretch when he's only allowed seven hits while striking out 13.
He is slated to start Michigan's third game of the Big Ten tournament in a rotation that includes Alan Oaks and Bobby Brosnahan. Like Miller, Michigan's staff has experienced its bouts with inconsistency, but that has also demonstrated the ability to come through in crunch time.
With the Wolverines needing to win this weekend's tournament to continue their season, Maloney is comfortable with his pitchers.
"I feel comfortable with the fact I know the guys can do it, I feel comfortable in the fact that they're rested and I feel comfortable with the fact that they've been put through a lot of different situations," Maloney said. "I know how bad they want it and I know they're capable of pitching this team to a tournament championship."
Jeff Arnold covers sports for AnnArbor.com and can be reached at (734) 623-2554 or by e-mail at jeffarnold@annarbor.com. Follow him on Twitter @jeffreyparnold.