Posted on
Thu, Mar 18, 2010 : 3:45 p.m.
Michigan hockey coach Red Berenson praises Miami, but doesn't count underdog Wolverines out
By Jeff Arnold
Ask Red Berenson what Miami (Ohio) does better than the majority of opponents his Michigan hockey team has faced this year and his answer is quick and succinct.
"I'd say everything," Berenson said earlier this week.
Berenson considers the top-seeded RedHawks to be not only the hands-on favorite to win this weekend's CCHA Tournament championship, but the country's top team. Miami currently down the No. 2 spot behind Denver in both the U.S. College Hockey Online and USA Today polls.
"They have arguably the best team in the country, let's face it, and have had from Game 1 this year," Berenson said in a teleconference with reporters this week. "I can't remember anyone who's dominated the league as they've done this year."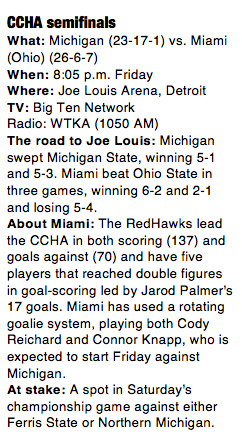 Ask Berenson what makes Miami such a difficult opponent and he reels off a laundry list of superlatives, covering everything from goal-scoring to penalty killing, scoring balance and depth of roster.
"This is a team that went to to the NCAA Championship game last year and they've come back and they've been on a mission all year," said Berenson, who told reporters the CCHA Tournament was Miami's to lose. "All their players have stayed and they've got an older, stronger, more experienced team. They've got a lot going for them.
"But can they be beat? Sure."
Miami has two losses in its last 17 games, one of which came in last weekend's best-of-3 quarterfinal victory over Ohio State. With the CCHA playoffs shifting to Joe Louis Arena in Detroit, the format changes to a do-or-die brand of hockey - a style Michigan has become well accustomed to over the past month.
Michigan, meanwhile, is considered one of the nation's hottest teams, having won four straight games and six of its last seven. The Wolverines were the only team in this weekend's Final Four to clinch their quarterfinal series on the road.
Yet, without claiming the Mason Cup, Michigan would be left out of the NCAA Tournament for the first time in 20 years. Despite keeping their hopes alive by sweeping No. 2-seed Michigan State last weekend, the Wolverines have a major hurdle to clear in Miami to keep their season going.
"They're a good team, but we're a good team, too," senior Brian Lebler said. "We might not have the street cred, but I think we can go in there and beat them."
No comment from Miami
Regardless of the praise Michigan is heaping on the RedHawks, Miami coach Enrico Blasi is making sure his players don't provide the Wolverines any more incentive than they already have.
Blasi instructed his players not to talk about Michigan to reporters, according to the Oxford (Ohio) Press. In fact, Blasi put made it a condition that if reporters wanted access to his players, they couldn't ask any questions relating to Miami's semifinal opponent.
Earlier in the day, Blasi - one of three finalists for the CCHA Coach of the Year - said in a teleconference that Michigan's balanced scoring makes the Wolverines tough to defend, especially considering the offensive re-emergence of Louie Caporusso, who has recorded 25 points (13 goals, 12 assists) in Michigan's last 21 games.
On the mend Michigan will again be without top defenseman Chris Summers, who will miss his second straight weekend with a leg injury. Summers was injured in Michigan's first-round series win over Lake Superior State, forcing Ben Winnett and Greg Pateryn to take on more active roles last weekend against Michigan State. Goalie Bryan Hogan returned to practice this week, but will remain in a back-up role behind junior Shawn Hunwick, who is 4-1 as a starter since taking over for the injured Hogan Feb. 25.
Etc., etc ... Ferris State and Northern Michigan will face off in Friday's other semifinal at Joe Louis. Ferris is making its first CCHA semifinal appearance since 2002-03 when the Bulldogs earned their first NCAA berth. ... Despite doing everything else well, Miami has struggled with slow starts this season, registering just 29 first-period goals as opposed to the second period, when the RedHawks have scored 61 times and in the third, when Miami has scored 46 times. Michigan, on the other hand, has scored 47 first-period goals and 48 in the third. The Wolverines' least productive period has come after the first intermission when the Wolverines have scored 39 times. ... Michigan has advanced to the CCHA title game in eight of the last nine years and has a 2-1 record at Joe Louis this year.
Jeff Arnold covers Michigan hockey for AnnArbor.com. He can be reached at jeffarnold@annarbor.com or 734-623-2554. Follow him at Twitter @jeffreyparnold.