Posted on
Sat, Aug 20, 2011 : 4:39 p.m.
Mike Hart, a 'no-brainer' for the coaching profession, excited to start career at Eastern Michigan
By Rich Rezler
Sometime tonight, Mike Hart expects to see his family in person for the first time in two weeks.
Welcome to the profession, Coach Hart.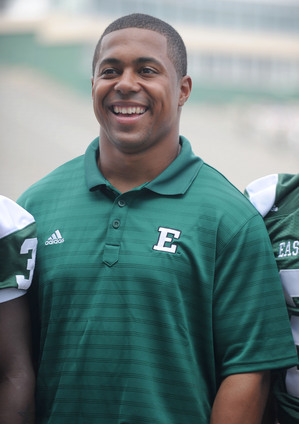 Angela J. Cesere | AnnArbor.com
The all-time leading rusher in
Michigan football
history quietly joined the coaching staff at
Eastern Michigan
as an offensive quality control assistant at the beginning of fall camp. The hire
was announced Wednesday
.
Movers packed up Hart's Indianapolis-area home on Saturday. His wife, Monique, and their seven-month-old son, Cameron -- who've only seen Hart over a Skype connection since he came to Ypsilanti -- are headed north up I-69 with their belongings.
It's the starting point of a career that Eastern Michigan head coach Ron English thinks can be a successful one, if Hart can handle the down side of coaching. Like going two weeks without seeing your family.
"If you were evaluating guys that you want to help get into the profession, in my opinion he's a no-brainer," said English, who was a secondary coach and defensive coordinator at Michigan when Hart was the program's four-year starting tailback.
"Mike's strengths were never his physical abilities, they were always his mental abilities, his emotional abilities, his character. That's what I've always loved about him. He's a no-brainer in this profession as long as he can deal with the hours, the commitment, the movement and the disappointment. There's a lot of disappointment in this profession."
During his playing days, Hart openly discussed his desire to be a college football head coach one day. Leading the Wolverines, he has said, is the ultimate goal.
When the Indianapolis Colts rescinded their rights to Hart in late July, making him an unrestricted free agent, it was time to make the first move in that direction.
"I knew since March that I was going to be a free agent, so it wasn't a surprise," said Hart, who spent three injury-plagued seasons with the Colts. "Once I didn't get a call in the first week, I called Coach E and he had a job, so I jumped on it and I'm happy be to be here."
The timing and location -- the Eastern Michigan campus is less than 10 miles from where Hart become a football icon -- were fortuitous.
"Everything kind of worked out. For any job opportunity to be open this close to the season is usually not going to happen," Hart said. "And for it to be here is just great. I love the area, my wife loves the area, so I'm happy to be back around here."
His first coaching job isn't a glamorous one. Hart, 25, is essentially a graduate assistant. And since Eastern doesn't have a large support staff like some larger programs, his duties can be downright mundane.
But he is excited to spend some time working with the Eagles' running backs, break down film for position coaches and handle some scout team duties once the season begins Sept. 3 against Howard.
"It's been long hours, camp is always a grind, but it's what I envisioned," Hart said. "I'm kind of just learning right now, it's like being a freshman again. I'm having a lot of fun."
English said he saw coaching potential in Hart during his playing days at Michigan. Plenty of players say they want to be coaches, English explained during the Eagles' media day at Rynearson Stadium on Saturday. But Hart essentially was a coach in shoulder pads, mentoring young players and developing a deep understanding of the game.
"Mike was coaching when he was playing. He was a guy who could see the big picture," English said. "He and I were very competitive. I didn't want him to run for a lot of yards in practice when we scrimmaged. But Mike could tell you about every single defender, what their weaknesses were and he could expose them."
Hart returns the compliments, saying English is exactly the kind of coach he wants to learn from. And, perhaps, someday compete against.
"I have a lot to learn. I'm a baby. It's not going to happen in the next five years, 10 years … but down the line hopefully I'll be able to be the head of my own program somewhere," he says.
"Or maybe in a year or two I'll realize I don't want to be a head coach because of what comes with it. I don't really know right now. I just want to learn and I figure in the next two or three years, I'll figure out exactly what kind of coach I want to be and take it from there."
Rich Rezler is a sports producer for AnnArbor.com. Contact him at richrezler@annarbor.com or 734-623-2553.