Posted on
Sun, Nov 15, 2009 : 5:46 a.m.
Milan's Lindsey Lammers is girls golf Player of the Year
By Kaleb Roedel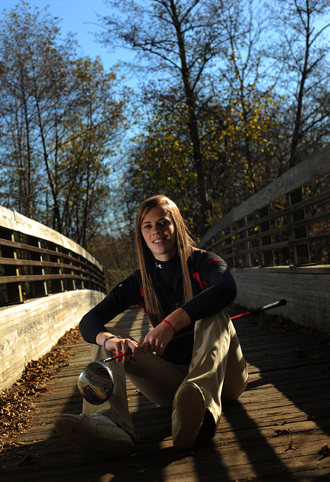 Lindsey Lammers still thinks about it.
It haunts her dreams.
That uncharacteristic triple bogey on hole No. 10 at The Meadows in Allendale in mid-October that may have cost her a Division 3 state championship.
"I had trouble sleeping for a couple nights," admitted Lammers, a senior at Milan High School. "I keep replaying this one hole in my head over and over again. It just eats me up."
Probably because, frankly, it was one of Lammers' few misplayed holes throughout the 2009 girls golf season. After leading the first day of play with a 1-over par 73, Lammers shot a 78 on the second day to finish two strokes behind individual medalist Jackie Deboer of Grand Rapids South Christian.
"Second (place) was hard, knowing I was so close," said Lammers. "I had it but it just slipped away."
In hindsight, however, Lammers realizes she has plenty to smile about when looking back on not only the state meet, but the entire 2009 campaign. She adds a AnnArbor.com Player of the Year and an All-Washtenaw County Dream Team selection to a long list of accolades.
"After thinking about," she added, "second place at state is great. I was happy after awhile. I did the best that I could."
Lammers coach, Claire Neff, who has guided the senior since she was a freshman, couldn't agree more.
"I think it was a perfect way to cap off a wonderful four years," said Neff. "I could not be prouder as a coach of how she finished her career at Milan."
Lammers entered the 2009 season primed for success. Throughout the summer, she competed in high-level tournaments and put in extra time on the putting greens and driving range, which Neff felt "gave her the extra edge for her season. She was really able to take it up that extra notch."
Lammers shaved five strokes off her average in 2008, dropping to an impressive 74 this fall.
Needless to say, Lammers was frequently atop the leaderboards this season. Her wins were highlighted by a fourth consecutive Huron League title and a first place showing at regionals.
And Lammers was quick to credit Neff for keeping her on the winning the path.
"The main thing she's done is she helped me improve my mental game," said Lammers. "She knows how to make me smile and get me focused and get me to where I need to be."
Soon after her regional victory came Lammers' second-place outing at state, which, by the way, earned her a spot on the All-State Super Team, an honor received by the top eight high school girls golfers in the state.
So, yeah, hole No. 10 still lingers in her thoughts, but when Lammers thinks about being named to the Super Team and the rest of her accolades, she has no longer has trouble sleeping.
Kaleb Roedel is a sports writer for AnnArbor.com. He can be reached at (734) 623-2562, e-mailed at kalebroedel@annarbor.com or followed on Twitter @KalebisReal.