MSU eliminates Michigan women from Big Ten Tournament, 62-46
Posted on Fri, Mar 8, 2013 : 11:51 p.m.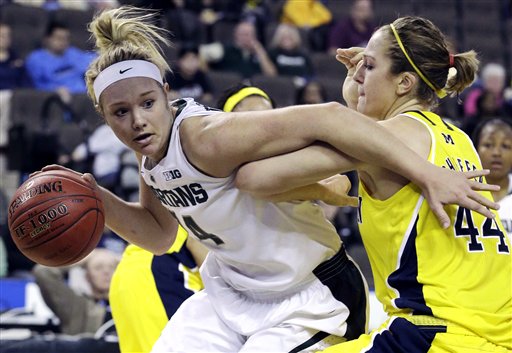 AP Photo
The Michigan women's basketball team snapped a losing streak to its rival earlier this season, but Michigan State wouldn't allow two in a row.
Klarissa Bell's 20 points led the Spartans to a 62-48 win over the Wolverines in a Big Ten Tournament quarterfinal Friday night in Hoffman Estates, Ill. Michigan State (23-7) pulled away in the second half while Michigan (21-10) made just 7 of 25 shots (.280) over the final 20 minutes.
While Bell was having an 8-for-15 shooting night, she helped limit Michigan's leading scorer, Kate Thompson, to eight points on 3-for-14 shooting, including 1-for-10 from the 3-point line.
It was Thompson who scored 20 points in Michigan's 70-69 win over the Spartans on Feb. 16, which ended Michigan State's 12-game winning streak in the rivalry.
"I just had a lot of redemption, let's say that," Bell said after the game. "Definitely just wanted to D up Kate Thompson the way I knew that I could. I just didn't do it as well as I could the last time, so this time I definitely wanted to do that. I think that showed."
Michigan State never trailed, leading by as many as 10 in the first half. When the Wolverines cut the deficit to two early in the second half, the Spartans responded with a 16-1 run to put the game out of reach.
Seniors Nya Jordan (12 points) and Rachel Scheffer (10 points) led the Wolverines.
Michigan State has now won 21 of its last 23 games against Michigan and has a 62-16 all-time record against the Wolverines.
"Obviously, when I came to Michigan, I knew that would be our in-state rival and a big rivalry for our kids as well as our universities," said first-year Michigan coach Kim Barnes-Arico. "They have a great program, a program that we aspire to be. This year, our seniors were able to come away with a victory at home. We played really well against them. And hopefully, my goal is obviously to get our program to be a national contender year in, year out. So that would be on the level of a Michigan State program."
With the win, the No. 4-seeded Spartans earned their eighth trip to the semifinals in the past 10 seasons. All four of the top tournament seeds advanced after two days of games. No. 2 Nebraska plays No. 3 Purdue and MSU will play top seed Penn State.