Posted on
Fri, Nov 25, 2011 : 8:35 a.m.
Ndamukong Suh ejected and Lions fall to unbeaten Packers
By AnnArbor.com Staff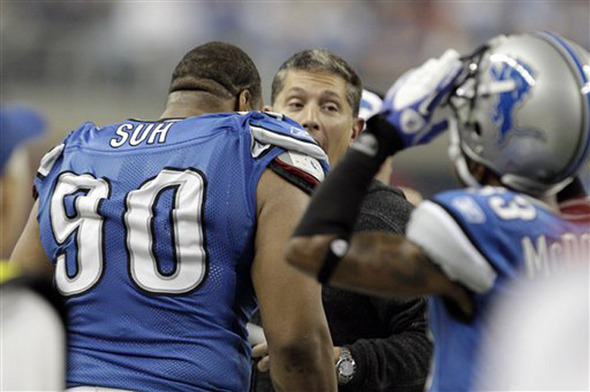 Associated Press
Ndamukong Suh
faces a suspension, the
Detroit Lions
were manhandled on a national stage by the
Green Bay Packers
, four players left the game because of injuries and they've lost four of their six games.
Tough day at the office, eh?
First, the loss to the 11-0 Packers. Turnovers and penalties made it easy for the unbeaten Packers to win, 27-15, at Ford Field.
Second, Suh. He was ejected in the third quarter after tangling with Green Bay lineman Evan Dietrich-Smith. He stomped on Dietrich-Smith's arm in the exchange. Afterward, Suh said it was an accident.
"I was on top of a guy being pulled down and trying to get up off the ground," Suh said. "Why you see me pushing his helmet down, because I'm trying to remove myself from the situation and as I'm getting up, I'm getting pushed, so I'm getting myself on balance and getting out of the situation.
"With that, a lot of people are going to interpret it as, or create their own storylines for seeing what they want to interpret it, but I know what I did and the man upstairs knows what I did."
(Click here for a video of the play)
That's not how most people interpreted the play. Former Eastern Michigan University lineman T.J. Lang, now with the Packers, as quoted in on JSOnline.com:
"That's (expletive)," Lang said. "He clearly had Evan by the face mask pinned to the ground. His explanation is crap. There's no room for that. It's a dumb penalty. He hurt his own team today."
Jason Cole, writing for Yahoo Sports, says the Lions (7-4) are a team out of control. He predicts a two- or three-game suspension for Suh. From Cole:
This play was dumb not just because it's the latest incident from Suh, a guy who is about to significantly add to the $42,500 he has been docked by the NFL in less than two full seasons. Not just because he further affirmed his reputation as the NFL's dirtiest player (as named recently among his peers by The Sporting News). Rather, it was those two plus the fact that Suh cost his team a chance to win.
DETROIT RED WINGS
MLive.com: Red Wings take on Boston today.