Posted on
Mon, Oct 8, 2012 : 7:56 p.m.
New look Yost Ice Arena receives 'glowing' reviews across the board
By Daniel Brenner

Yost Ice Arena has long been a symbol of an era gone by. One of college hockey's last remaining "old barns" its classic old time hockey feel has long been a redeeming quality.
But the University of Michigan athletic department invested $16 million in renovations to make the old barn seem brand new from the inside, yet maintain its classic qualities that made it popular in the first place.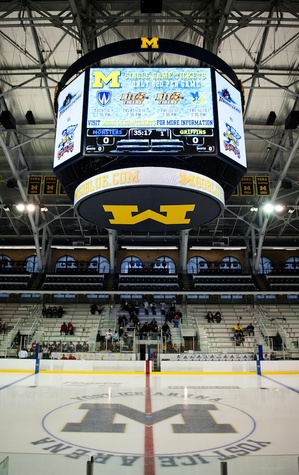 Daniel Brenner | AnnArbor.com
After months of construction, the new-look arena finally opened its doors last week and the reviews have been glowing. Literally.
"We're so happy with what they've done," said senior captain Lee Moffie. "The lighting's night and day different. The natural light is awesome. It almost kind of feels like you're outdoors a bit at times when the sun's really coming through."
Michigan assistant coach Brian Wiseman also raved about the added brightness to the arena. The windows on the arena's south end and new lighting throughout make the rink glow from within. The huge scoreboard that last year looked like it might cause the old building to collapse from the middle is now surrounded by similarly state-of-the-art amenities.
"I saw some of the projection, color pictures and photographs, and it was nothing like it really is. It is so, changed. So improved," said Michigan coach Red Berenson. "I thought they've done a terrific job." Yost was open to Michigan fans for "Skate with the Wolverines" on Sunday and many longtime fans too the opportunity to see the new and improved arena for the first time.
Daniel Brenner is a photography intern for AnnArbor.com.