New Michigan baseball coach Erik Bakich prefers a traditional Big Ten schedule
Posted on Fri, Jun 29, 2012 : 5:58 a.m.
When he was coaching at Maryland, new Michigan baseball coach Erik Bakich had a saying when it came to the weather.
And, more importantly, the excuses that usually came along with it.
"It's always 70 and sunny in your mind," he joked. "That may not be the case outdoors, but it's just a mindset."
The notion that northern college baseball teams cannot compete on the same level as those in the South has been an ongoing topic of conversation for years. Michigan, like all other Big Ten schools, begins the college season in February -- more often than not with snow and ice covering its baseball facility.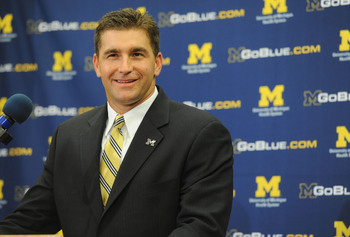 Angela J. Cesere | AnnArbor.com
The Wolverines generally spend the first month of their season on the road, traveling to warmer climates to play tournaments and true road games. In 2012, Michigan's first home game was on March 23 -- 21 games into the season.
The weather issue has been a hot topic for northern schools in the past, so much so that Big Ten commissioner Jim Delany and several of the league's athletic directors backed a proposal to push a portion of the college baseball season to the fall, to avoid winter issues.
"I think it would be incredibly smart of the northern schools to play a partial season in the fall," Michigan athletic director Dave Brandon said last month. "For weather-related reasons, we're going have a better quality experience for those student-athletes if we do in those beautiful months of August, September and October play some baseball -- so we're not starting the season in February and March when we're scraping snow off the field."
Bakich has his own opinions. He understands the decisions won't be left up to him, but he prefers to keep everything the way it is.
Weather won't ever be an excuse, he says. Not even in the midst of a blizzard.
"I would like to play a traditional college baseball season," Bakich said. "And strap it on with the best teams -- South, North, it doesn't matter.
"We're going to be able to build a program here that's going to compete with anyone."
Part of the reason Bakich so firmly backs his stance on the matter has to do with the Michigan softball program.
Legendary coach Carol Hutchins has built the Wolverines' softball team into one of the country's most respected programs. And, every season, Hutchins faces the same elements that Big Ten baseball squads do.
Her teams spend most of the first month of their year on the road and doesn't play a home game until the midway point of the season.
Yet, year in and year out, Hutchins' group is successful. And Bakich believes his can be, too.
"Baseball and softball are under the same umbrella, they have the same seasons and play on the same type of surface," he said. "What Hutch has done here is remarkable and I don't see why that can't be done (with baseball).
"It takes a very special coach, like Coach Hutchins, but she's kind of leading the way as far as the baseball-softball model and what can be done."
Bakich pointed to Michigan's historical success in baseball, both nationally and regionally, and said weather had nothing to do with those titles.
And if he has his way, it won't alter his titles either.
"(Michigan) has won 35 Big Ten titles," he said. "We've been to the (College) World Series, we've won national championships.
"I understand the landscape of college baseball has changed, but that doesn't mean we can't compete for those same championships."