Posted on
Mon, Oct 29, 2012 : 4:43 p.m.
NHL could cancel Winter Classic on Thursday, owes Michigan additional $250,000 if not done by Friday
By Pete Cunningham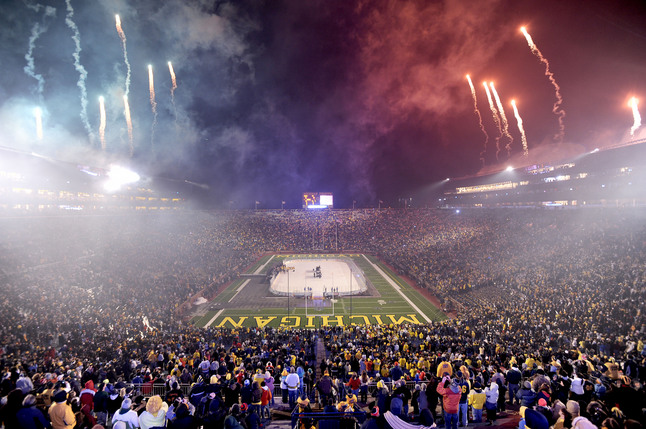 AnnArbor.com file photo
ESPN.com reported on Monday that the
National Hockey League expects to cancel the Winter Classic on Thursday
.
If it doesn't do so by Friday, the league will be stuck with a $250,000 bill from the University of Michigan.
The NHL cancelled all regular season games through the month of November on Friday due to its ongoing labor strife with its locked out players. The annual New Year's Day outdoor game, which is to be played at Michigan Stadium, looks to be the next casualty of the now six-week long lockout.
According to the league's contract with Michigan, the NHL can cancel the New Year's Day outdoor game between the Detroit Red Wings and Toronto Maple Leafs up until the day of the event, but if the game is not canceled by Friday, the NHL will have to pay Michigan $350,000 -- plus any documented preparation expenses -- for the game. If the league cancels the game before Nov. 2, it owes Michigan a flat fee of $100,000
As of Monday morning, the NHL had not communicated any plans to cancel the game according to Michigan's associate athletic director Dave Ablauf.
"I don't know their timetable. It's their timetable. Their decision. We're kind of watching and waiting at this point," Ablauf said. "We're continuing our process on planning on (the game occurring)."
Per the agreement, the NHL has to deliver written notice to the university to cancel the game. Ablauf said any such communication would go directly to athletic director Dave Brandon, but that no such message has been delivered.
"They're renting from us, so we're just sitting back and waiting," Ablauf said. "We're prepared to move forward."
Brandon said previously that he'd like the game to be played, but is not overly concerned with something very much outside of his control.
"I hope they get their labor issues resolved and we can play the game as we planned. Let's hope it happens, but if it doesn't, life will go on," Brandon said back in August. "Michigan Stadium has been dark and cold and barren every New Year's Day for the last 80 years. We're kind of used to that, and if something happens where they can't play the game, it'll be the way it's always been.
"Hopefully, if that were the case, they'd come back and play it the next year. We'd love to host it, and I know they'd love for us to host it."
This year's Winter Classic is expected break the world record for attendance at a hockey game of 104,173 set at the outdoor game between Michigan and Michigan State in 2010. The NHL also plans on breaking the Michigan Stadium attendance record of 114,804.
Spinoff revenue from previous Winter Classics in Boston, Pittsburgh and Philadelphia have been reported to be between $22 and $36 million, far more than the $14 million generated from Michigan home football games.
After Friday, the next payment deadline for the NHL is December 7 at which point the league will owe Michigan another $1 million.
Click here to upload a PDF of the contract.
Pete Cunningham covers sports for AnnArbor.com. He can be reached at petercunningham@annarbor.com. Follow him on Twitter @petcunningham.