Posted on
Mon, Dec 3, 2012 : 11:39 p.m.
No. 4 Syracuse pummels Eastern Michigan 84-48 in Rob Murphy and Da'Shonte Riley's return to Carrier Dome
By AnnArbor.com Staff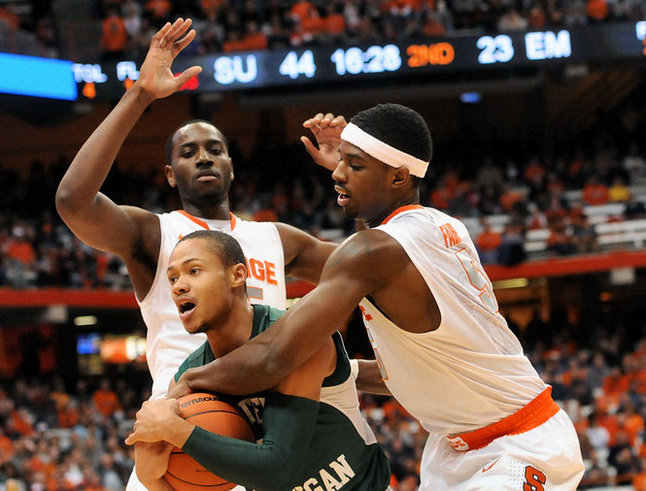 Dennis Nett | Syracuse.com/Advance Publications
For Eastern Michigan men's basketball coach
Rob Murphy
and junior center
Da'Shonte Riley
, Monday night's game against No. 4 Syracuse was not only an opportunity to face one of the nation's elite programs, it was a chance to face their former team.
Murphy was an assistant coach at Syracuse for seven years, and Riley spent the first two years of his college career there, but Monday was anything but a sweet homecoming. The Orange extended their non-conference winning streak to 48 games in dominant fashion, defeating Eastern 84-48, the exact same score the Orange defeated the Eagles by last season.
The win also extended Syracuse's nation's best home-winning streak to 26 games.
Eastern had 24 turnovers -- 17 in the first half.
"We were concerned with that coming in. We just didn't handle it well," Murphy said. "We worked on it, but until you get in the situation and you're in this place and you see those long, active hands, you just can't prepare for it. I don't think we should have turned it over that much — 17 turnovers in the first half, that was enough for a complete game, and that's where the game was lost."
Dennis Nett | Syracuse.com/Advance Publications
Riley scored just three points in his return to the Carrier Dome, but had five rebounds and six blocks, one short of a career-high.
"There's obviously different levels of college basketball, and we kind of exposed some of that tonight," Riley said. "We've just got to play a lot tougher, a lot stronger, a lot smarter, and I think it'll be all right."
Derek Thompson scored 18 points and Glenn Bryant had 16 points and ten rebounds for the first double-double of his college career for Eastern. No one else scored more than three points for the Eagles (5-2). DaJuan Coleman led Syracuse with 14 points. Syracuse had five players score in double-digits.
Eastern jumped out to a 10-3 lead to start the game, but Syracuse responded with a 13-2 run and never looked back. A Thompson layup with seven minutes and four seconds remaining in the half was Eastern's last basket before the break as Syracuse ended on a 19-3 run to take a 35-17 lead into the half.
Murphy's mentor, legendary coach Jim Boeheim, didn't like what he saw out of his 6-0 team early on as Eastern inched ahead with a low-empo attack.
"To just assume we're going to win games is the most arrogant thing I have ever seen in my life," Boeheim said. "I don't like arrogance and I don't like arrogant people. To just think it's going to happen, it doesn't work that way."
Boeheim used a dead ball situation to switch to full-court pressure with his team down seven and the game immediately changed in Syracuse's favor.
"It picked up the intensity,'' Syracuse guard Michael Carter-Williams said of the press to Mike Waters of Syracuse.com. "It got us easy baskets. It just got us going overall as a team and got us excited. We just pulled away from there.''
Monday's game was the first of a series of tough non-conference month for Eastern. The Eagles play Purdue at home on Saturday, Oakland and No. 3 Michigan Dec. 20th and 22nd and defending national champion Kentucky and UMass Jan. 2 and Jan. 5 before beginning MAC play on Jan. 9.
"No matter what the outcome is - obviously we're preparing to win each and every game on our schedule - but if you can compete against Syracuse, Purdue, Kentucky, Michigan, going into conference - and that's no slight on the conference (play) - you should be in position to be well prepared to compete against the in-conference teams," Murphy said of the tough stretch.
-- The Associated Press Contributed to this report.