Posted on
Thu, Jun 28, 2012 : 3:28 p.m.
Now at his destination job, Erik Bakich says Michigan baseball will 'take a back seat' to no one
By Nick Baumgardner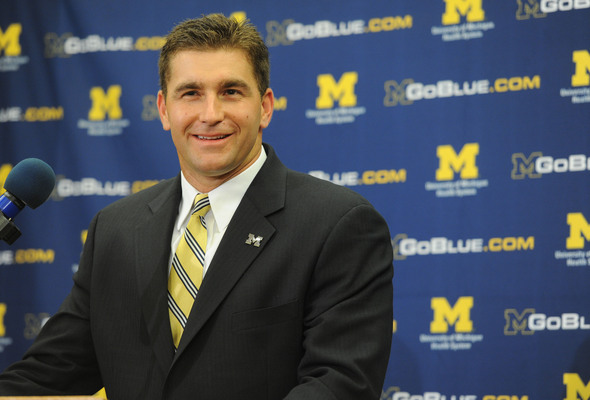 Angela J. Cesere | AnnArbor.com
Upon discussing his future plans with his wife, Jiffy, last winter, Erik Bakich had come to the conclusion that he wouldn't be taking any type of new job this summer.
With one young son, Colt, already starting to grow and another child on the way, the 34-year-old Bakich thought it would make the most sense for he and his family to stay in Maryland.
"I said, 'well, we're pretty much guaranteed that we're not going anywhere this summer,'" Bakich recalled. "And she said 'yeah, right. Unless Michigan calls.'"
Michigan eventually called, and -- true to Jiffy's prediction -- the Bakich's are now full-time residents of Ann Arbor.
Bakich, who spent the last three years in charge of the Maryland program, was officially introduced Thursday as Michigan's new baseball coach.
The youngest coach at any BCS-level school, Bakich becomes the 19th coach in Michigan history, replacing Rich Maloney, who spent the past 10 seasons in charge of the Wolverines' dugout.
"I've had my eye on this place for a long time," said Bakich, who was on the staff at Vanderbilt in 2007 when Michigan knocked off the Commodores to capture an NCAA Regional crown. "If you'd have told me five years ago that I had the opportunity to lead this program, I wouldn't have believed you.
"This is a tremendous, tremendous privilege and a tremendous, tremendous opportunity."
Michigan announced Bakich's hire Wednesday evening, ending a month-long coaching search that athletic director Dave Brandon said featured coaches in Major League Baseball, various other head college coaches and some college assistants.
Brandon wouldn't get into specifics on who else was interviewed, or who else was brought on campus, but did say he conducted a second interview with Bakich earlier this week.
On Wednesday, one report speculated that Bakich would be paid $400,000 annually to take the job at Michigan, something Brandon said was "total misinformation" and "completely wrong." Brandon said there has not been a formal agreement on Bakich's compensation, and the contract won't be finalized for a week or two.
Regardless of contract, though, Brandon said he's confident he's found the man that will lead the Michigan baseball program for "many, many" years to come.
"He was described by somebody as one of the best young coaches in America," Brandon said. "He impressed me, he knew about Ann Arbor, he knew about the University of Michigan, he wants to be a college coach and settle here and raise a family.
"This is a guy with a family who wants to be in Ann Arbor and has made a significant commitment to this place."
Bakich said he does not have a staff in place, but did admit he is "leaning toward" bringing several members of his staff at Maryland -- including pitching coach Sean Kenny, a product of both Pioneer High School and Eastern Michigan.
During his three years at Maryland, Bakich finished with a record of just 70-98. However, his record improved each season -- going from 17 wins his first year to 32 last season.
At Michigan, Bakich brings a reputation as one of the better recruiters in the country, as he enjoyed great success with top 25 classes at both Vanderbilt and Maryland.
Bakich says his main recruiting focus will be inside Michigan, but will also stretch across the Midwest, the South and the West Coast. Additionally, he wants to put a high focus on player development, something he says will include an immediate offseason physical and nutritional development program to enhance performance.
As far as expectations go, Bakich's message was clear.
He wants to win championships, at every level.
"The goals are about championships," Bakich said. "And understanding that championships aren't just about winning the championship game. It's about being a champion on a daily basis, controlling attitude, perspective and effort.
"We're going to set a goal to win a national championship. ... But understanding what it takes to get there, not just focusing on (the College World Series in Omaha, Neb.), that's too far away. That's the destination, but we're going to be focused on the journey."
Bakich continually scoffed at the notion that national success on the college baseball circuit can't be had at at northern school, pointing to Michigan's four College World Series bids in the 1980s as proof.
He also continually brought up the success that Michigan softball coach Carol Hutchins has enjoyed over her stellar career, noting that he'd like to "pick her brain" to see exactly how she's been able to do it.
His end-goal is to bring Michigan back to the national stage and the College World Series.
But his immediate goal?
To return Michigan back to where he feels it belongs: Atop the Big Ten Conference.
"The Big Ten is Michigan," Bakich said. "When I think about the Big Ten, I think about the Big House packed, I think about maize and blue and I think about championships.
"We are the class of the Big Ten and we take a back seat to nobody, and we're going to make sure that's the case in baseball from here on out."
Nick Baumgardner covers Michigan sports for AnnArbor.com. He can be reached at 734-623-2514, by email at nickbaumgardner@annarbor.com and followed on Twitter @nickbaumgardner.