Posted on
Sat, Nov 21, 2009 : 3:10 p.m.
Final: Ohio State football team stops Michigan, 21-10
By Jim Knight
Michigan comes up empty: Michigan quarterback Tate Forcier was intercepted in the end zone by Devon Torrence with 8:07 to play in the game. Michigan had driven 44 yards in 5 plays to the OSU 10-yard line.
THIRD QUARTER
Ohio State 21, Michigan 10:
Quarterback Terrelle Pryor, passing for the first time in an 11-play, 89-yard drive, found Dan Herron for an 11-yard touchdown pass.
Ohio State 14, Michigan 10: Tate Forcier, scrambling left, then right on a third-down play, found Vincent Smith for a 19-yard touchdown pass. Michigan's drive covered 49 yards in 8 plays. The drive started when Jonas Mouton intercepted a Terrelle Pryor pass.
SECOND QUARTER
Ohio State 14, Michigan 3:
Running back Brandon Saine scored on a 29-yard run as Ohio State went 80 yards with 6 running plays. Saine carried 4 times for 46 yards and quarterback Terrelle Pryor rushed twice for 34 yards.
Ohio State 7, Michigan 3: Jason Olesnavage kicked a 46-yard field goal to cap a 10-play, 50-yard drive by Michigan. Michigan has 148 yards of total offense and has held Ohio State to 72 yards.
FIRST QUARTER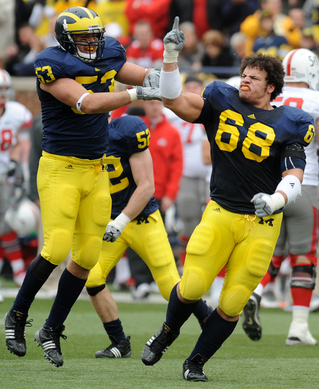 Michigan comes up empty:
Michigan drove 52 yards to the Ohio State 8-yard line, but came away with no points when Jason Olesnavage missed a 24-yard field goal attempt with 4 minutes left in the first quarter.
Ohio State 7, Michigan 0: Junior defensive end Cameron Heyward recovered a fumble by Michigan quarterback Tate Forcier in the end zone as Ohio State scored first. Forcier, scrambling on a third-down play in his own end zone, dropped the ball while looking for an opening.
Game under way: Ohio State opened the game on offense and picked up two first downs before its drive stalled near midfield.
Kickoff: The Ohio State football team has a 7-3 edge in the last 10 Michigan-Ohio State games and today's game kicks off at noon at Michigan Stadium. We'll update this story throughout the game.
Live chat: Join our in-game live chat led by Pete Bigelow and Michael Rothstein.
Ohio State: The Buckeyes (9-2, 6-1) have clinched a tie for the Big Ten title and are headed to the Rose Bowl. They have won five consecutive Big Ten titles. Ohio State leads the conference in total defense, rushing defense and turnover margin.