Posted on
Wed, Apr 21, 2010 : 6:17 p.m.
Opening day Big Chill At the Big House ticket sales reach nearly 15,000
By Jeff Arnold
Ever since plans for an outdoor hockey game at Michigan Stadium were officially announced, Red Berenson knew it would be a hit.
The only question left to be answered was just how sizable The Big Chill at the Big House would be when the Michigan hockey team faces rival Michigan State on Dec. 11.
If opening-day sales are any indication, though, the once-in-a-lifetime opportunity Berenson anticipated could be a reality.
General ticket sales began Wednesday, netting 14,700 purchases by 4 p.m., according to an athletic department spokesman. When added to the that seats have already been sold or committed to by season-ticket holders, former players and other groups, officials announced Wednesday that close to 80,000 tickets have already been sold.
"This has just taken off. You knew it would when you have something this special at the Big House - the first time ever, maybe the only time ever," Berenson said in a statement. " Everybody wants to be there. I think we'll be sold out before we know it. It'll be a tough ticket to buy."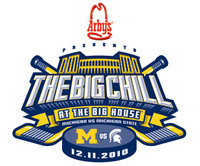 More than 7,000 tickets sold in the first 30 minutes they were sold - a total that rose to more than 11,000 by 10:30 a.m. End zone tickets are priced at $15 each, with a group sale rate of $10 for purchases of 15 or more tickets.
Tickets can be purchased online at www.MGoBlue.com/tickets or by calling the Michigan ticket office at (734) 764-0247 or 866- 296-6849.
Wednesday's first-day sales were higher than officials anticipated. With so many tickets already spoken for, Michigan athletic director Dave Brandon is excited by the possibilities of crowd size pushing 100,000.
"The excitement generated today by the public demand for tickets to The Big Chill at the Big House only reinforces my belief that this hockey game is going to be a very special event," Brandon said in a statement Wednesday. "Until now, I could only imagine how it would be to have 80,000 fans watching the Wolverine hockey team at Michigan Stadium."
Officials are hoping to break the record for the largest crowd ever to witness a hockey game. Michigan and Michigan State drew more than 74,000 in the Cold War game in 2001 at Spartan Stadium in East Lansing.
Brandon told AnnArbor.com Tuesday that university officials are planning a series of special events will be held in conjunction with the Big Chill game that could stretch the festivities throughout the weekend.
Among the activities: parties, tailgates, player reunions and public skating sessions as well as an alumni game.
Jeff Arnold covers Michigan hockey for AnnArbor.com. He can be reached at jeffarnold@annarbor.com or 734-623-2554. Follow him at Twitter @jeffreyparnold.