Posted on
Tue, Jul 10, 2012 : 4:02 p.m.
'Other' Eastern Michigan QB recruit, Brandon Bossard, ready for some healthy competition
By Rich Rezler
Eastern Michigan raised some eyebrows across the college football recruiting world when it received a verbal commitment from 4-star quarterback Brogan Roback on Saturday.
Fellow Eagles' quarterback recruit Brandon Bossard didn't bat an eye.
"The coaches told me from the start they were looking to bring two quarterbacks in," Brossard told AnnArbor.com on Tuesday. "That's part of the deal. Nothing in life is guaranteed, so I'm always open to that competition.
"It brings out the best in everybody."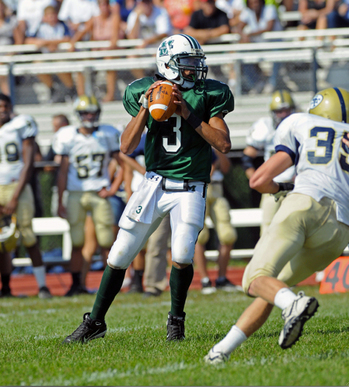 Courtesy of Eric Bossard
Roback, a 6-foot-4 pro-style signal caller from St. John's Jesuit High School in Toledo, is a significant recruit for EMU coach Ron English and his staff. According to Scout.com and Rivals.com databases, which both date back to 2002, a 4-star recruit has never signed a letter of intent to play for the Eagles.
But at least one other recruiting service thinks EMU has a better prospect in Bossard, a senior at Mathacton High School in Norristown, Pa.
ESPN rates Bossard a 3-star and the No. 55 quarterback recruit in the nation, five spots ahead of Roback. Neither Scout nor Rivals has evaluated Bossard, who is listed at 6-foot-3 and 204 pounds.
They won't have the chance to check him out again this summer. After attending a camp at Eastern Michigan in early June, Bossard committed to the Eagles on June 16 and canceled the rest of his summer camp schedule - saying he didn't want EMU to "feel like I was going behind their back."
His only other scholarship offer before committing to EMU came from Towson.
"When I was out there, it felt like the right fit. To learn from an NFL quarterback in coach (Ken) Karcher gives me the best opportunity to improve," Bossard said. "And I believe in coach English, think they're up and coming, and wanted to be part of that."
The addition of a 4-star teammate to compete with -- in addition to redshirt sophomore Tyler Benz and redshirt freshman Mark Iannotti -- didn't phase Bossard, who said he plans to reach out to Roback soon.
But he does think it's a good sign for his future team.
"I think it showed a lot about what coach English has done in his tenure there," Bossard said. "They're getting some big recruits and hopefully that results in some MAC championships and bowl victories, and that leads to even bigger recruits."