Posted on
Sat, Nov 21, 2009 : 7:14 p.m.
Don't let bad season overshadow what Brandon Graham meant to Michigan
By Pete Bigelow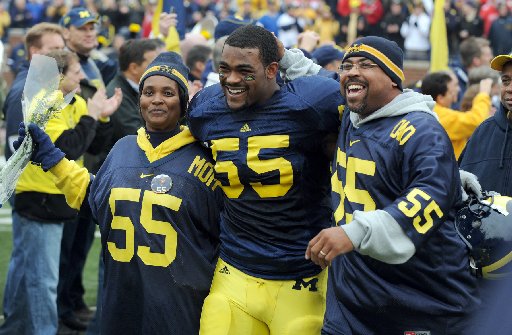 Outside the Michigan Stadium tunnel, a raucous crowd of Ohio State fans and cheerleaders celebrated their victory Saturday, waving red roses in the air as the Buckeyes began preparations for Pasadena.
Amid the crowd, Brandon Graham's grandmother stood to the side with a single yellow rose wrapped in cellophane.
The contrast looked the same as it did inside the stadium all afternoon, when Graham was the lone standout for the Wolverines amid a sea of scarlet at the Big House.
There are plenty of other storylines following Michigan's 21-10 loss Saturday, its sixth consecutive defeat in the rivalry with Ohio State.
The one that one could easily be drowned out by all the talk about Rich Rodriguez's job security and Tate Forcier's five-turnover performance is Graham's afternoon. In his final game as a Wolverine, he willed the Michigan defense to its best outing of the season. The Wolverines held Ohio State to 318 offensive yards, which is no small feat considering it's the fewest yards they've allowed to any Big Ten opponent this season. They contained Terrelle Pryor, the quarterback who spurned Michigan to attend Ohio State less than two years ago. He completed 9 of 17 passes for 67 yards. At the center of that effort was Graham, who had a sack and 4 tackles for loss. "He just got better and better," said Brittany Duncan, his sister, who waited with his grandmother to congratulate Graham on his big game, big season and just-completed college career. "I just know that he wanted that quarterback," she said. "He wanted to stop Terrelle Pryor." On a third-quarter Ohio State drive with Michigan trailing only 14-10, Graham single-handedly kept Michigan in the game, stuffing Dan Herron for a 2-yard loss and sacking Pryor for an 8-yard loss the following play. Graham has made plays like that all season, and should go down as one of the best defensive players in Michigan history. He might not. The defense turned dreadful during his time on campus. The cracks first formed in the infamous Appalachian State game three seasons ago, and never really healed. In his breakout junior season, the Wolverines missed the postseason for the first time in 33 years. In his just-completed senior year, the defense cratered around him while he faced double and triple teams. Some NFL team will be very happy to learn Graham overcame that attention to post 25 tackles for loss and 9.5 sacks this year. But at Michigan, though, the 2009 season will be remembered for the continuation of the postseason drought, the NCAA investigation and the dilapidated state of the program. Graham's best came in the dark ages of Michigan football. If he's not remembered as one of the best Wolverines ever, he should at least go down as one of the most underappreciated. For his part, Graham kept his head up Saturday evening. "We fought hard to the end, and I'm proud of everyone," he said smiling after the game. "We left it all on the field. We left it on the field against a good Ohio State team." Earlier this week, Graham didn't want to talk about the end - couldn't talk about the end. He nearly broke down in tears when he started to ponder playing his last game in the Big House. He probably didn't envision what transpired Saturday, when he ran out of the tunnel and into a stadium filled with nearly as many Buckeye fans as Wolverine faithful. That sorry spectacle won't be forgotten. But it shouldn't overshadow Graham's game or culmination of his career. At the rate the Wolverines are going, it may be a long time before there's someone like him playing here again.
Pete Bigelow covers sports for AnnArbor.com. He can be reached at petebigelow@annarbor.com or 734-623-2556.