Pair of Ann Arbor first-timers capture inaugural Ann Arbor Marathon titles
Posted on Sun, Jun 17, 2012 : 1:41 p.m.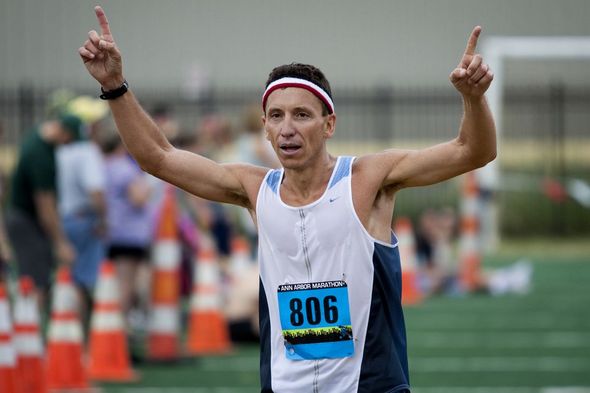 Jeffrey Smith | AnnArbor.com
Neither Marco Capelli nor Allyson Weimer had set foot in Ann Arbor prior to this weekend.
But on Sunday, the duo was treated to a more intimate tour of the city than some longtime residents have ever experienced.
Capelli and Weimer were the first male and female, respectively, to cross the finish line at the inaugural Ann Arbor Marathon, capping a rather enjoyable morning sight-seeing tour while making history in the process.
"The city is beautiful," said the 24-year-old Weimer, who finished with winning time of 3 hours, 11 minutes and 41 seconds. "The campus is incredible, we went inside some buildings, it was very impressive."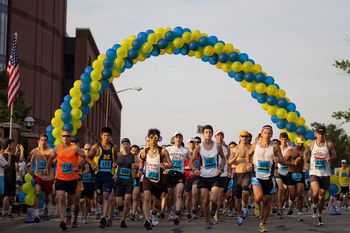 Jeffrey Smith | AnnArbor.com
A native of Washington, Okla., Weimer ran Sunday's marathon with her mother, Janet. And though it was her first time in Ann Arbor, it was far from her first rodeo overall.
Weimer, who ran club cross country at the University of Oklahoma, has a personal goal to run a marathon in all 50 states.
Sunday marked No. 25 -- the halfway point, and her third victory overall.
"Boston was probably the coolest one I've ever run," Weimer said. "But Atlanta was probably the hardest, with all those hills and all that heat."
Related content: Notebook | Photo gallery
For Capelli, a native of Florence, Italy, who now lives in Toledo, the race offered a first glimpse at Ann Arbor and also gave him a friendly reminder that at 39 years old, he's still got plenty of gas left in the tank.
"This is the best way to get to know a city," said Capelli, who finished with a time of 2:48:02. "This was beautiful. And, I'm getting older. I thought maybe my time was coming up about two or three years ago.
"But I'm starting to recover my shape. In two months I'm 40, and this seems like it's my second youth."
TOP 10 FINISHERS

The top finishers in the inaugural Ann Arbor Marathon on Sunday. Complete results can be
found here
.
Top 10 men
1. Marco Capelli, 2:48:02.5
2. Rich Power, 2:55:55.7
3. Brian Hancock, 2:58:28.1
4. Jeff Kobinsky, 2:59:34.1
5. Ditrich Bronner, 3:01:38.3
6. Jarrod Quinlivan, 3:01:49.5
7. Benjamin Gherardi, 3:01:58.1
8. Christopher Valicka, 3:02:52.8
9. Gary Gurgold, 3:03:21.9
10. Josh Gardner, 3:03:38.2

Top 10 women
1. Allyson Weimer, 3:11:36.6
2. Gwen Frederickson, 3:21:00.5
3. Erin Patton, 3:26:39.8
4. Cheyenne Luzynski, 3:27:46.9
5. Meghan Moceri-Denotter, 3:32:29.6
6. Roxanne Patryiak, 3:33:01.9
7. Christine Stead, 3:40:42.4
8. Amy Gingras, 3:41:26.6
9. Christy Booth, 3:41:49.9
10. Lori Sella-Armstrong, 3:44:10.3

The first-ever Ann Arbor Marathon featured roughly 800 participants who ventured the entire 26.2 mile trek. The race began at Main Street on the northwest corner of Michigan Stadium and took runners through just about every chasm of the city.
The course began with a jog into downtown Ann Arbor, and continued on a jaunt through Michigan's central campus before making its way up the Huron Parkway into North Campus.
Runners then moved south past the University of Michigan Hospital and back through campus before eventually making their way south for a down-and-back loop on Washtenaw Avenue. The race eventually made its way through south Ann Arbor, passing the Briarwood Mall, and doubling back up Main Street before wrapping up at the 50-yard-line at Elbel Field.
The 26.2 mile marathon wasn't the only event, though, as runners had the option of going through a half marathon, a 5-kilometer run or a 1-mile race through town.
In total, an estimated 3,300 runners took part in either the marathon, half marathon or 5K race.
Not bad for a first time.
"This was a very organized, well designed run," Capelli said. "I was amazed by that, because normally the first time you host a race like this, there's always something that goes wrong.
"But this was great."
Capelli's next race will be his first as a 40-year-old, as he says he has plans to take in another marathon in Akron, Ohio in September.
Weimer, meanwhile, says she'll continue her 50-state tour next with a marathon in South Dakota.
She's at the halfway point of her journey and does, in fact, have plans to run marathons in both Hawaii and Alaska -- but perhaps not for some time.
"Those might be a ways off," she laughed.