Posted on
Mon, Dec 5, 2011 : 7:58 a.m.
Penalties stall Lions' second-half comeback attempt in 31-17 loss to Saints
By Jim Knight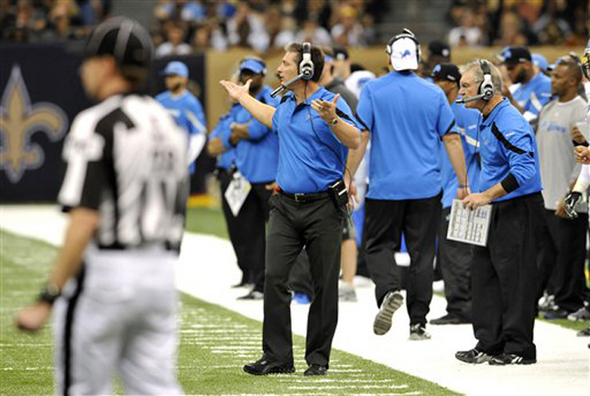 Associated Press
The Detroit Lions piled up 107 yards in penalties in their 31-17 loss Sunday night to New Orleans.
And they didn't need Ndamukong Suh for any of the 11 penalties. Suh, the Lions second-year defensive star, missed the game as he served the first half of his two-game suspension for his head-banging, arm-stomping tirade on Thanksgiving.
"We're undisciplined. Undisciplined. Undisciplined," Lions center Dominic Raiola said. "We (expletive) it up. It's very disheartening to do this (expletive) in big games. We got to clean it up. We ain't going to win (expletive) games like this if you play like that."
The Lions (7-5) have lost five of their last seven games.
MORE LIONS

LIONS-SAINTS HIGHLIGHTS FROM NBC SPORTS
Breaking sports news video. MLB, NFL, NBA, NHL highlights and more.
NOLA.com:

THE SAINTS FANS AND THE "WHO DAT?" CHANT
DETROIT RED WINGS