Posted on
Mon, Jun 25, 2012 : 10:06 p.m.
Peter Vanderkaay tops Michigan-heavy final for Olympic bid; Ryan Lochte edges Michael Phelps in 400 IM
By AnnArbor.com Staff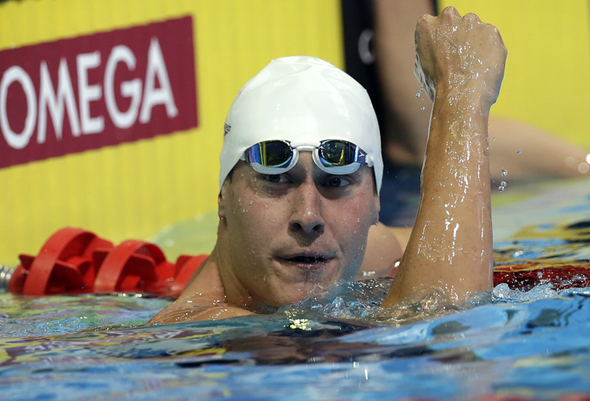 Associated Press
Former Michigan swimmer Peter Vanderkaay became a three-time Olympian on Monday night, beating a pack of Wolverines along the way.
Vanderkaay won the 400-meter freestyle at the U.S. Olympic swimming trials in Omaha, Neb. He won with a time of 3:47.67, while Conor Dwyer claimed the second spot on the Olympic team in 3:47.83.
Five of the eight finalists in the race, determined by heat races earlier in the day, had Michigan ties.
Charlie Houchin, a Club Wolverine member who swam at Michigan from 2006-10, finished fourth, followed by current Wolverines Ryan Feeley and Connor Jaeger. Matt Patton (2005-09) was seventh.
"It felt like practice out there," Feeley said, according to the Michigan swimming program's official Twitter account. "We all push each other in practice. We're just trying to be the best we can be."
Vanderkaay, who swam at Michigan from 2002-06, was a member of the U.S. gold medal 4x200-meter freestyle relay team at the 2004 Summer Olympics. He won his first individual medal in 2008, claiming a bronze in the 200 freestyle.
According to the school, Vanderkaay is the first Michigan swimming graduate to make three Olympic Games appearances for the United States.
"I just tried to get my head down and get my hand on the touchpad," Vanderkaay said. "Both Conor and I were able to do that and punched our tickets (to London)."
Related: List of swimmers with Ann Arbor-area ties expected to compete at U.S Olympic Trials | Monday's results
In the 400 individual medley final, Ryan Lochte showed he still has the most famous Club Wolverine swimmer's number.
But Michael Phelps has put himself in position to go for another eight gold medals at the London Olympics.
Lochte won his latest showdown with the winningest Olympian ever, beating Phelps in the first final race of the night.
Lochte extended his dominance of Phelps that goes back to last year's world championships, where the 27-year-old Floridian won five gold medals and both of his head-to-head races against Phelps.
Phelps claimed the second Olympic spot in 4:07.89.
"I was very pleased with that," Phelps said. "I said if I went 4:07, I'd be happy."
Former Michigan swimmer Tyler Clary, who took second at the 2011 worlds, won't even get a chance to swim the event in London. He faded to third in 4:09.92 and was so upset he didn't even bother to stop for the media in the mixed zone.
Don't count out Phelps, who plans to retire after the Olympics and is eager to end his career with another dazzling performance. He already has won 14 gold medals, more than any other athlete.
That he is even swimming the 400 IM shows Phelps has regained the focus and dedication that faded away after the 2008 Olympics. At those games, Phelps won his second straight gold medal in the event, but insisted he was done with the grueling race. Then, in the past few months, he put it back in his repertoire — and now he'll be swimming it again in London.
That means he could take another shot at eight gold medals, the mark he set in 2008 to eclipse Mark Spitz's iconic Olympic record.
Phelps will be heavily favored to claim a spot on the U.S. team in four other individual events at Omaha: the 100 and 200 butterfly, 200 free and 200 individual medley. If he again swims on all three American relays, as expected, Phelps would have another eight-event program at the Olympics.
In other finals on the opening night of the trials, 19-year-old Elizabeth Beisel earned her second straight trip to the Olympics in the 400 individual medley. She won in 4:31.74, more than 2 seconds ahead of Caitlin Leverenz.
Dana Vollmer, bouncing back from the disappointment of failing to qualify for the Olympic team four years ago, set an American record in the semifinals of the 100 butterfly. The defending world champion put up a blistering time of 56.42 to edge the mark she set a year ago (56.47).


The Associated Press contributed to this report.