Posted on
Sat, Jan 2, 2010 : 7:06 p.m.
Saline, Dexter, Willow Run all lose boys basketball games at Saline Holiday Showcase
By Rich Rezler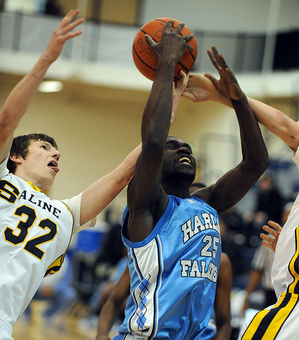 The New Year got off to a rocky start for three Washtenaw County boys high school basketball teams. For another, it didn't start at all.

Willow Run, Dexter and host Saline were all on the losing end of lopsided games at Saturday's Saline Holiday Showcase. Pioneer's game at the same event was cancelled when scheduled opponent LaPorte (Ind.) La Lumiere decided not to travel through inclement weather.
Southeastern Conference teams Dexter and Saline looked timid -- and maybe a little intimidated -- in games against their big-city opponents.

The host Hornets never scored more than seven points in a single quarter during a 46-22 loss to Chicago Harlan Academy, while conference rival Dexter's wake-up call came too late in a 48-33 loss to Detroit Consortium.
Boxscores: Willow Run vs. Inkster | Dexter vs. Consortium | Saline vs. Harlan
Saline (1-4) senior Brandon Carmack scored a team-high 9 points, including the Hornets' entire 4-point output in third quarter. Garrett Stark added 6 points for Saline, which shot 9-of-37 (.243) from the floor.
Harlan (8-6) was patient in its half-court set -- hitting 20-of-39 (.513) shots - but explosive when transition opportunities presented themselves.
Thunderous break-away dunks by Carl Brandon and Romane Hunter (team-high 10 points) were part of a 10-0 second-quarter run that gave Harlan a big early lead it wouldn't relinquish.
Dexter (4-1) had similar struggles in the first half against Consortium, trailing 25-9 at halftime.
After Dexter coach Randy Swoverland questioned his team's toughness during the break, the Dreadnaughts responded in the second half with more aggressive play. But while Dexter better controlled the tempo, its shots (12-of-45 from the floor, 0-of-14 from 3-point range) never started falling consistently.
Dexter senior Stefan Elslager scored 6 of his team-high 10 points over a 2-minute stretch of the fourth quarter, helping the Dreadnaughts cut Consortium's lead to 41-31 with 2:54 remaining. But they'd never get closer than 10 points.
Consortium (3-2) was led by Brendalle Smith's 17 points.
Willow Run run entered its game on a 2-week hiatus and looked rusty in its 62-45 loss to Inkster.
With their high school's gymnasium closed over the holiday break, a scrimmage at Washtenaw Christian was the only time the Flyers have been on the court together since a Dec. 21 win over Westland John Glenn.
"Having the school closed during break just hurts programs," Willow Run coach George Woods said. "But I can't blame it on that. We can't make excuses.
"We just didn't play Willow Run basketball. There was no intensity and we didn't execute."

Still, the Flyers were in the mix up until Devantaye Hinton's post basket cut Inkster's lead to 35-31 with 1:39 left in the third quarter. Hinton led Willow Run with 17 points and Maurice Jordan added 12.
An Inkster 13-0 run that spanned the end of the third quarter and first 3 minutes of the fourth turned the momentum back in favor of the Vikings (5-1) and Willow Run wouldn't get back within 10 points the rest of the way.
Inkster's Lawrence Ridgell scored a game-high 25 points, including 9-of-12 free throws.
In the headline game, Romulus and Gary (Ind.) Lew Wallace put an end to the lopsided final scores. A Lew Wallace 3-point attempt with 4 seconds remaining rimmed out to preserve a 56-53 win for Romulus.
DeAndray Buckley led a balanced Romulus attack with 12 points. Lew Wallace got 23 points from junior Branden Dawson, a recruiting target of several Big Ten teams.
Pioneer coach Rex Stanczak said La Lumiere has expressed interest in a make-up trip to Ann Arbor later in the season if the school's can find an open date on both their schedules.