Posted on
Sat, Jul 14, 2012 : 5:59 a.m.
Pioneer grad Kara Lynn Joyce is 50 meters from 1st individual Olympic medal
By AnnArbor.com Freelance Journalist
By Dan D'Addona
for AnnArbor.com

Kara Lynn Joyce stood 50 meters from making a third Olympic team.
The Pioneer High School graduate had been in that position before, but this time the situation was a little different.
Joyce had failed to make the semifinals, let alone the Olympic team, in the 100-meter freestyle at the U.S. Olympic Swim Trials. The 50 freestyle was her last shot and she surged to a second-place finish and punched her ticket to London.
"It is awesome. I have to pinch myself multiple times a day. I am just so happy I am here," Joyce said in a telephone conversation from Olympic camp in Knoxville, Tenn. "It has been a crazy journey the past couple of years. I couldn't have asked for a better outcome."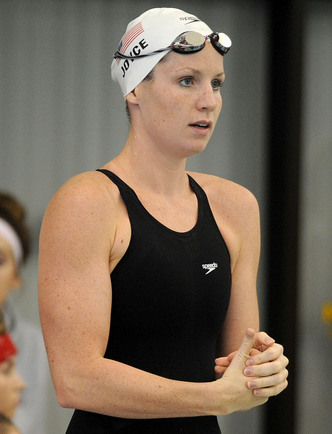 AnnArbor.com file photo
Four Olympians — Joyce, Dara Torres, Jessica Hardy and Christine Magnuson — were in the race with just two spots going to London.
"It was very close," Joyce said. "Before it started, I decided I was going to put my best race out there. This is what I trained for and dedicated the last four years for. I put my best 50 out there. It was good enough.
"I was just as shocked as a lot of people to see the No. 2 next to my name. It is the most shocked I have been to qualify for an Olympic Games."
It shocked the nation as the 45-year-old Torres, bidding to make her sixth Olympic team, was touched out by Hardy, Joyce and Magnuson.
"I've done everything I possibly could, so whatever is going to happen is going to happen," Torres said. "That was my goal, to make the team and (Kara Lynn) and Christine Magnuson beating me by a tenth of a second is tough, but I don't think there is anything that I could change, and for me swimming three times and getting fourth at Olympic Trials against girls half my age."
Joyce is 19 years younger than Torres, but already has two Olympics under her belt as she heads to London. She will swim the 50 freestyle on Aug. 3-4.
"I am excited," she said. "It means a lot to me. It is more than I ever thought I could accomplish. To have another shot is incredible."
Joyce made the Athens team in 2004, swimming the 50 and 100 freestyles as well as the 400 freestyle relay. Four years ago in Beijing, Joyce finished one spot away from making the team at trials, but was added to the team when Hardy tested positive for a banned substance.
This time, there will be no relay, just 50 meters.
"My race is a short distance," she said. "I am excited to have the opportunity to have an individual event. I want to do my best. I don't know that I will approach it any differently."
After winning silver medals on relays the past two Olympics, one thing has eluded Joyce at the games — an individual medal.
"Obviously, I would love to win a gold individually," she said. "That would be pretty awesome. I don't know what the competition has in store."
But Joyce knows what is in store for her in London out of the pool. With no race the first two days of the Games, Joyce will be able do do something she has ever been able to do — march in the opening ceremony on Friday, July 27.
"I have never walked in an opening ceremony because I usually swim the next day," she said. "But I will be walking for the first time. I am excited to experience it."
Then she can focus on the race.
"You gotta just go in the 50," she said. "There are always details you can improve on. You just have to have those things down pat. You have to step on the blocks and turn your brain on auto pilot. Hopefully, everything will be better than it was at trials."
After a rocky four years, Joyce will have to decide if her career in the water is done after London.
Joyce has won state championships, national championships and Olympic medals. She is the national high school record holder for the 50- and 100-yard freestyles and swept the NCAA Division I championships in the events at Georgia.
"I am not really sure yet. If you asked me three months ago, I would have said that this would be it for me. But I have had so much fun. If I could continue this, I will keep going. I have had so many awesome things in my career," Joyce said.
"I have had a dynamic career in high school in Michigan, in college in Georgia and nationally. The coolest thing about this whole journey is the people. I have made so many friends with people from all walks of life. That is pretty special."
One of those special people is 17-year-old Missy Franklin, who qualified for London in a record seven events.
"I am thrilled to experience this with Missy," Joyce said. "It is her first Olympics. I cried like a baby when she made it. She cried when I made it. She is like a little sister to me. I am so excited to see what she can do. I think the future of USA swimming is bright.
"My job here is to make their experience as awesome as possible."

Note: The Associated Press previously accompanying this story misidentified Joyce.