Posted on
Mon, Oct 29, 2012 : 12:40 p.m.
Plan B: If Winter Classic is canceled, GLI moves to Joe Louis Arena two days later
By Kyle Austin
The University of Michigan may lose its scheduled outdoor hockey game at Michigan Stadium this week, but the Wolverines' hockey team will play on.
Reports surfaced last week that the 2013 Winter Classic, scheduled for New Year's Day, could be canceled this week if there is no agreement in place between the NHL and its players association.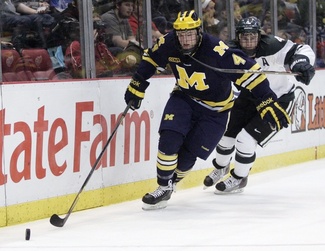 Mlive.com file
Michigan's hockey team is scheduled in the Great Lakes Invitational Dec. 27-28 at Comerica Park, as part of the Hockeytown Winter Festival.
But as the Winter Classic goes, so goes the Hockeytown Winter Festival, so GLI organizers have a plan B in place.
The GLI would move to Joe Louis Arena Dec. 29-30 should Comerica Park be unavailable, Wes Frahm, director of athletic communications and marketing at Michigan Tech said Monday. Michigan Tech is the host school for the GLI.
The game times have yet to be determined, but the tournament bracket would remain the same: Michigan Tech will play Michigan and Michigan State will play Western Michigan on the first day of the tournament, and the championship and third-place games will take place the following day.
Frahm said Michigan Tech's athletic director, Suzanna Sanregret, has been in touch with NHL and Red Wings officials. While little information has been provided as to the timeline for Winter Classic cancellation, the school will be notified one way or the other as soon as a decision has been made.
The GLI has been played at Joe Louis Arena every year since 1979. This year would be the first tournament staged outdoors.
Should the GLI be moved indoors, the hope is that the tournament could be played outdoors at as part of a future Winter Classic, Frahm said.
Even if the league were to start playing regular-season games by late December, Joe Louis Arena would be available: the Red Wings are off Dec. 28 and have a game in Ottawa scheduled for Dec. 29.
Kyle Austin covers sports for AnnArbor.com. He can be reached at kyleaustin@annarbor.com or 734-623-2535. Follow him on Twitter @KAustin_AA.