Posted on
Mon, Feb 11, 2013 : 1:27 p.m.
Players remember teammate John Ramakers at Michigan Pond Hockey Classic at Whitmore Lake
By Pete Cunningham
John Ramakers didn't play in the sixth annual Michigan Pond Hockey Classic at Whitmore Lake this weekend. But that was nothing new.
Ramakers not being there, though, was.
For more than a decade, Ramakers was the goaltender for a men's league team out of Lake Orion, but when the guys would play in pond hockey tournaments, Ramakers was relegated to bench.
Pond hockey tournaments are typically 3-on-3 or 4-on-4, no goalies allowed.
That didn't keep Ramakers from showing up though, rooting for the guys.
Ramakers was the first one in the locker room before beer league games and would begin his compulsive routines before anyone even arrived. This included sitting in the same seat - nearest the door - hanging his jersey just so, and sometimes even puking nervously before a game.
When Ramakers' work transferred him to Oakville, Ontario for five-week stints in the heart of the season, Ramakers would rearrange his schedule so that he could start at 5 a.m. and be done by 3 p.m. on Fridays.
It gave him just enough time to drive to the ice arena in Hazel Park for his team's weekly game, then head straight back in time for work on Saturday.
"I'd say 'Johnny, you gotta go see your wife. You're coming home and playing hockey and going right back to work, you're not even seeing your kid and your wife?'" Kregg Richardson said, laughing at the memory. "He'd be like 'Oh, they understand.'"
Ramakers was intensely competitive, obsessive about his routines and loved playing on his team.
You couldn't tell him it was just a beer league game.
"He was very much an engineer," said teammate Cale Chapman. "A very well thought out guy."
Ramakers wasn't a great skater and insisted in not hurting the team in the pond hockey tournaments. But at tournaments like the Michigan Pond Hockey Classic at Whitmore Lake over the weekend, Ramakers would still make his presence felt.
"He'd show up just because he loved the game and being with the guys," Richardson said. "Being the most nervous guy in the world, he would be like, 'I hope the guys aren't gonna stay up and drink too much, or do something stupid, we gotta play in the morning.'"
But without staying up, drinking too much or "doing something stupid," there would be no weekend men's league tournaments.
"It was his nervousness, he just thought if you had too many beers, you were going to lose and just always wanted to win," remembers friend and teammate Andy Miller with a laugh. "He would be like, 'Guys, don't drink tonight, you're going to feel like crap tomorrow,' and we would give him a hard time."
It wasn't just the extracurricular activities Ramakers was interested in.
"If he wasn't there, he'd call every game or be like 'Text me as soon as the game's over' or 'I'll call you tonight,' so he'd know what was going on," Richardson said. "He just loved the game and everything about it."
There were no phone calls with inconsequential standings updates this weekend. No good luck texts, or calls to remind the guys to lay off the booze.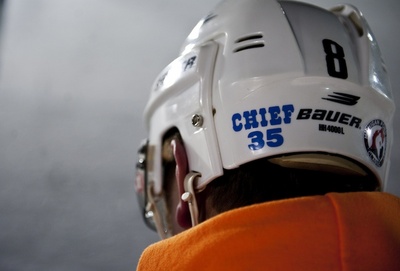 Daniel Brenner | AnnArbor.com
Ramakers died unexpectedly on March 15 last year.
After suffering a severely sprained ankle last year, Ramakers developed
Compartment syndrome
. Resulting blood clots and complications from surgery led to a triple embolism and his untimely death.
Ramakers was 43.
Nearly a year after his passing, Ramakers' former teammates joked that the ever-nervous Ramakers "would be the guy to die of a sprained ankle." They sipped on Labatt Blue around a burn barrel on Friday night, light from the fire illuminating their faces as the laughs turned into reminiscent smiles.
Ramakers no doubt would have objected to those beers right before a game.
On Saturday, Ramakers' former teammates shared memories and some wore helmet stickers with "Chief 35."
Because of his name (pronounced: "Ray-makers") and black hair, people often thought his name was "Rainmaker" and mistook him to be of native descent, which led to his nickname "Chief Stopping Puck."
"It was a good joke name," Richardson said.
Ramakers died the day before the team's playoff game last year. The team hung his jersey behind the first seat in he locker room - his seat - and to this day no one sits there before games.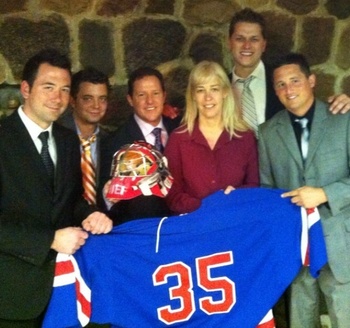 Photo courtesy of Kregg Richardson
"No one sits in the seat because that's Johnny's seat," Miller said. "He was the nicest guy in the world."
At Ramakers' memorial service last March, his two worlds came together. His hockey buddies introduced themselves to Ramakers' mother - who is from Sault Ste. Marie, Ontario - but it wasn't necessary.
She knew all about them.
"She was like 'he talked about you guys all the time, like you were family and how much he loved playing and the camaraderie with the guys,'" Richardson said.
Sporting their "Chief 35" stickers, the Quality Aire Systems team took the ice at Whitmore Lake over the weekend and the cans of beer were never far from the bench.
There was no one bugging the players to keep their drinks to a minimum, and no texts or phone calls came in asking for scoring updates.
But everyone wished there were.
Peter Cunningham covers sports for AnnArbor.com. He can be reached at petercunningham@annarbor.com. Follow him on Twitter @petcunningham.