Posted on
Wed, May 5, 2010 : 5 p.m.
Positive outlook helps Michigan women's track coach James Henry cope with cancer
By Jeff Arnold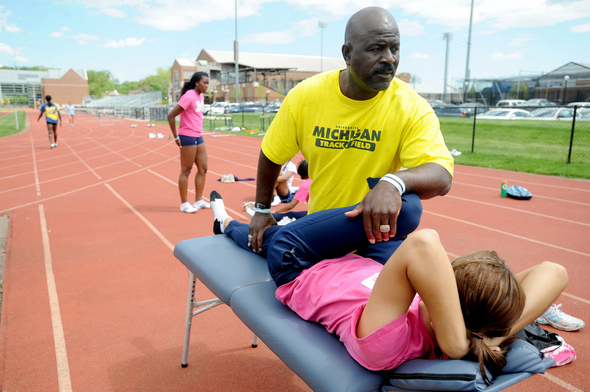 James Henry delivered the speech God knows how many times over the past 30 years.
But now at age 52, the Michigan women's track coach was looking in the mirror. He didn't have enough information to break the news to his wife. He wasn't ready to tell his team. He just needed to cope.
In the past, he leaned on life experiences from his own family to deal with adversity. He often passed those stories on to his athletes, ending each lesson with the same phrase.
Make great out of the bad.
"Everyone's going to get their turn," he'd say.
Now it was his.
Henry never expected the word cancer to creep into a doctor's appointment at the end of February. Why would it?
He had never been seriously ill. Didn't drink, didn't smoke. Heck, he rarely yelled. He went to bed early at night and rarely got riled. So how could Henry - a former Michigan long jumper and the Wolverines' women's head coach since 1985 - be diagnosed with prostate cancer?
The worst crept into his mind. He wouldn't get the chance to be a grandpa. He'd never spend summer days playing with his grandkids. His time on earth would be quickly come to an end.
For one month, Henry didn't tell his wife, Michelle. He figured if he broke the news, she'd ask how bad it was and he wouldn't have an answer. So before he could tell her, he had to know himself. But he wouldn't panic.
"I don't get on rides at amusement parks and I don't get on big machines way up in the air," Henry said. "But I've always said if I had to jump out of an airplane without a parachute, I wouldn't be nervous because I don't have a choice."
Henry, who joined Michigan's women's track and field staff in 1981 as an assistant, underwent successful surgery. As far as the doctors could tell, the cells hadn't spread and in time, Henry will return to full health.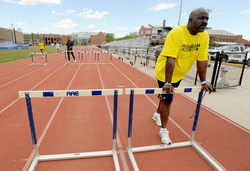 Initially though, Henry didn't know that. His took the good news-bad news route with his team, telling them he wasn't going to die anytime soon. The bad news, though, was he had cancer.
At least one of his runners knew something had been wrong, but hadn't let on. Henry has always been one to keep to himself and so without knowing of the diagnosis, his other athletes - other than noticing he looked tired at times - didn't know of their coach's secret.
But he had to tell them.
"It was really hard and really shocking for us all, because he's always been such a positive coach," fifth-year senior sprinter Shana Vinson said. "So when something like this came, I think we were all a little more worried than he was, and he made it way better than it could have been."
For the first time, Henry was the example of having to turn the bad into good. And for the first time, it was his athletes who were giving advice, not only lending their support, but providing him with motivation.
Len Paddock Invitational
The Michigan track and field team will host its only home meet of the season, which will feature the men's team wearing blue T-shirts to recognize prostate cancer and the women's team wearing pink T-shirts to recognize breast cancer.
When: Friday, 11 a.m., Saturday, 10 a.m.
Where: Ferry Field
Friday will feature field events (hammer, javelin, pole vault and triple jump) beginning at 11 a.m., with two running events (400-meter hurdles, 1,500-meter run) taking place at 6:30 p.m. Saturday's remaining field events are slated for a 10 a.m. start, while running will begin at 12:30 p.m.
Next week, Henry will undergo his first four-week check-up when his prostate specific antigen (PSA) levels will be checked to determine whether he'll need to undergo further treatment such as chemotherapy or radiation. He remains optimistic that following surgery, he can continue life in the way he has become accustomed to.
Immediately following the diagnosis, Henry missed time away from his team, spending a week in the hospital and another 10 days recovering at home. The days often moved slowly, forcing Henry to cope not only with the boredom of sitting in front of a television, but with the fact he couldn't be around his athletes.
The past few weeks, though, have marked a return to normalcy. There are days when he doesn't have as much energy as he'd like, but he's back "being his old, normal silly self."
This weekend, he will again take part in the annual Len Paddock Invitational, Michigan's only home track meet of the season. But the event will also include a cancer awareness message. Michigan's athletes will wear blue and pink T-shirts, recognizing prostate and breast cancer.
"He's been remarkable," Michigan associate women's coach Mike McGuire said. "He's been incredibly resilient and knowing that everything is going to be OK, it's just been great to have him back."
Henry's head-on approach to dealing with cancer inspired those around him. Vinson said knowing what Henry was going through pushed her to work harder.
For McGuire, seeing a long-time associate dealing with cancer provided a new perspective on competition, teaching him how unexpected life can be. For Henry, the scare allowed him to hear what he had been telling his athletes for years.
"I need to be a direct example when bad things happen, you need to move on," Henry said. "And I'm moving on."
Jeff Arnold covers sports for AnnArbor.com and can be reached at (734) 623-2554 or by e-mail at jeffarnold@annarbor.com. Follow him on Twitter @jeffreyparnold.