Post-game handshake turns personal for Rich Rodriguez and Purdue coach Danny Hope
Posted on Sat, Nov 7, 2009 : 7:41 p.m.
This one was personal.

Michigan football coach Rich Rodriguez said Purdue coach Danny Hope used the customary post-game handshake Saturday to chide him for comments earlier in the year that helped get a Purdue player suspended.

Rodriguez said guard Zach Reckman accompanied Hope to the handshake following Purdue's 38-36 victory. After the two coaches shook hands, Rodriguez said Hope introduced him to Reckman and said, "Thanks, Coach. Really appreciate what you did."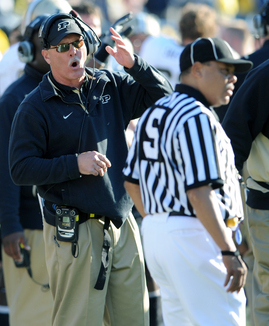 Lon Horwedel | AnnArbor.com
"I was a little disappointed that after the game their coach seemed to bring the lineman over like I was the reason that his lineman got suspended for that one game," Rodriguez said. "I don't know where that came from. I talked to him on the phone and told him that wasn't me that - this is way back when.

"I didn't have anything to do with that young man getting suspended for that one game."

After the Big Ten suspended Michigan linebacker Jonas Mouton for a game earlier this year for striking a Notre Dame player, Rodriguez said he'd ask the conference to suspend every player who commits a similar "non-football act" during the course of a game.

"As a coach you say, 'OK, the precedent will be set,' and that's why I say we'll look at every act," Rodriguez said at the time. "And, in fact, it's funny you say that, I saw a Big Ten game, in the locker room as we were leaving, highlights, and it was the end of the game and a guy jumped on someone on the last play of the game and did a little of this right here (gave an opponent a forearm). Now is that a non-football act? It probably is, so that may be turned in and see what happens."

Rodriguez was referring to Purdue's loss to Northern Illinois, when Reckman struck a Northern Illinois player after Purdue turned the ball over on its desperate final play.

The Big Ten suspended Reckman for one game the following week.

"I usually go over and shake hands and tell you good luck in the next game," Rodriguez said. "To come over and say something about that, whatever."

Hope declined to discuss the exchange in a statement released through Purdue's sports information office.

"As far as I'm concerned our conversation will remain between Coach Rodriguez and me," the statement said. "We'll leave it at that."