Posted on
Thu, May 16, 2013 : 12:52 p.m.
Record setting freshman Sierra Romero leads powerful Michigan softball team into NCAA Regional
By Pete Cunningham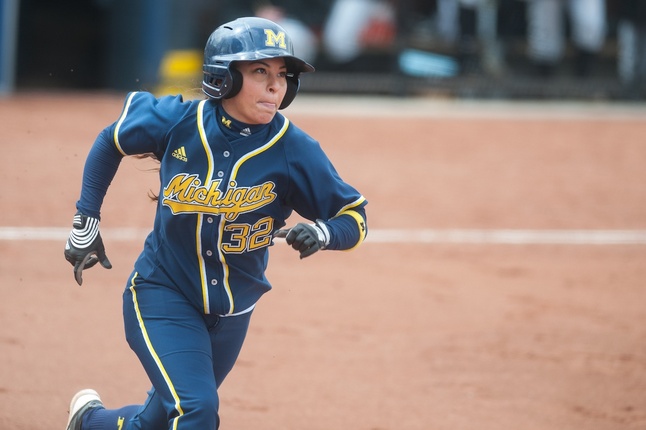 Courtney Sacco | AnnArbor.com file photo
Sierra Romero
didn't come to Michigan expecting to lead the team in
home runs as a freshman
. When she arrived in Ann Arbor, it wasn't one of her goals to set the single season home run record for the
softball team
in her first go around.
Maybe being Big Ten freshman of the year was looked at as a possibility, but Big Ten player of the year, a finalist for national player of the year? As a freshman?
No way.
"My hitting. I didn't come here expecting to do as good as I've been doing. I just came here to do what I can," said Romero, who ended the regular season with 22 home runs, one more than the previous record, which four other Wolverines players have accomplished since 2005. "It wasn't something that I had in mind, but it happened and it's great.
"I've been working on my hitting, so it's been nice for it all to just work out."
Michigan coach Carol "Hutch" Hutchins knew Romero was the type of player who could make an impact right away, immediately moving senior captain Amy Knapp to from shortstop to third base to make the infield as strong as possible. But Romero's production at the plate has exceeded even Hutchins' lofty expectations.
But one of the reason's Romero has been able to have success at the plate is because there's really nowhere for opposing pitchers to go. Even when they pitch around - or at - her, waiting for them down the lineup are all-Big Ten selections Ashley Lane and Caitlin Blanchard, who have .385 and .399 averages, respectively.
"Romero's had a great freshman year for us, but the key to that is having hitters behind her because otherwise people can just pitch around her," Hutchins said. "The fact that Blanchard and Ashley Lane have done such a great job all year, whether it's power or just putting the ball in play and just capitalizing, they've done great."
Daniel Brenner | AnnArbor.com file photo
"It is unfortunate for opposing pitchers because we do have so much depth in our lineup," said Lane. "I really don't feel like they have room to pitch around anyone."
If not for Romero's stellar freshman campaign, it would likely be Lane on conference and national player of the year lists after hitting 16 home runs with 52 RBIs.
Lane will finish her career at Michigan as one of the all-time leaders in several offensive categories, but is happy to take a backseat as the team powers forward with the second most productive offense in the country.
"I'm just as excited for her accomplishments as I am for my own...I don't look at it as taking a backseat, I just look at it as exciting that she's on my team, thank God," Lane said. "That really hasn't been a concern of mine. I'm not one to be in the spotlight anyway."
Despite her success and comfort level between the lines, Romero is still a freshman, looking forward to her first postseason as only a newcomer can.
"I grew up watching (the NCAA Tournament) on TV and I can't believe that I'll actually be playing in it," Romero said.
Michigan will play Valparaiso in its opening game of the regional round of the NCAA Tournament at Alumni Field on Friday (7 p.m., ESPN3). For information visit MGoBlue.com.
Pete Cunningham covers sports for AnnArbor.com. He can be reached at petercunningham@annarbor.com. Follow him on Twitter @petcunningham.