Posted on
Wed, Dec 2, 2009 : 5:29 p.m.
Recruiting analysts weigh in on Michigan football team's class
By Dave Birkett
With the Michigan football team's disappointing 5-7 season in the books and national signing day two months from Thursday, the focus now turns to recruiting.
The Wolverines received a non-binding verbal commitment from Pennsylvania cornerback Cullen Christian last week and are down to their final few scholarships for the class of 2010.
AnnArbor.com asked 2 analysts to weigh in on Michigan's recruiting efforts, how the Wolverines are faring so far and what is ahead.
What are your impressions of Michigan's class so far?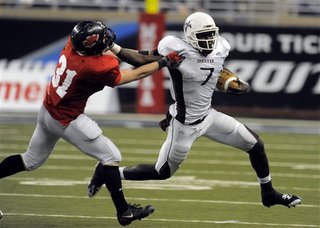 •
Tom Lemming, CBS College Sports
: "I think it's a very good class. … They have a lot of athletes, just like last year's class. Guys like
Marvin Robinson
, Cullen Christian and
Devin Gardner
are all big-, big-time guys and guys that should contribute as true freshman. Gardner could be the answer, teaming up with
Tate Forcier
at quarterback. He's their type of guy. It took them 4, 5 years at West Virginia to get rolling and I think you'll see it happening slowly but surely at Michigan 'cause he's getting his kind of athletes in there. Every kid they're getting is an athlete, maybe lacking a little bit in size, but sure can run."
• Allen Wallace, Scout.com: "Good, not a great class. … It's not amongst the average rankings of the top 10 schools, but it's still pretty solid. I've always felt if you can recruit a top-20 class every year then you put yourself in the position to win the glass trophy. It's not like you have to get top-5, top-10 classes, but if you've got classes in the top 20 then you've got the kind of athletes that should be able to compete and should be able to compete at the highest level."
Who's the biggest impact recruit in Michigan's current class? • TL: "I think Devin Gardner. Tate Forcier kind of slowed up (late in the year), but team up those two guys next year and they'll have quite an offense, in my opinion. And then you've got Marvin Robinson who, to me, when I saw him back in February, I thought this guy's got great range. … I really like Cullen Christian because he's a big cornerback who can play. So I like a lot of their guys. They've done well. And they're still in on some big-name guys nationally, so I think they're going to finish real strong, too."
• AW: "Just looking at the list you'd say Devin Gardner is the most notable amongst these kids based upon his star ranking and the fact that a quarterback is so important to Michigan's offense. … It'll come down to whether Gardner can really throw at the college level. I think he needs to work on his mechanics, so in that sense how quickly he moves forward will depend upon a lot of what the talent amounts to, can he pass in the college game, and then also can the guys currently in the program hold him off. ... I'd say he's the guy who stands out, but it's very tough to predict that quarterback position."
What's Michigan's biggest area of need left to fill? • TL: "Defensive tackles and cornerbacks still. I know they got Cullen Christian, but when I watch them that's what I would say. Those 2 positions seem to me to be the ones they have to fill. … Defensive tackles are always tough. There's Bruce Gaston here in Chicago who I think is the best in the Midwest, and Beau Allen, who they offered up in Minnesota, so there's still some out there. And then they got the kid down at Stephenson High School in Stone Mountain, Ga,, who I kind of like, (Mike) Thornton, he's come on strong this year. He's a pretty good player, so he's another one. If they can get one or two of those guys then they're in business."
• AW: "I think all of us have a lot of confidence in Rich Rodriguez's ability to put together a good offense at Michigan, at least I felt that way because he did at West Virginia. You have good athletes at a pedigree school like Michigan, so I expect the offense to be fine. What you need to see is recruiting defensive depth, so you can avoid the problems that Notre Dame faced where they showed they can really score the ball on pretty much anybody despite the lack of a consistent running game, but their defense couldn't stop anybody when it counted. …I'm kind of an old-fashioned guy, just looking at what it takes at the college level, you have to be able to run the ball consistently when it counts, you've got to be able to keep the ball away from the other team, and you have to be able to stop the run. And Michigan had problem in both those areas."
Dave Birkett covers University of Michigan football for AnnArbor.com. He can be reached by phone at 734-623-2552 or by e-mail at davidbirkett@annarbor.com. Follow him on Twitter @davebirkett.