Posted on
Wed, Nov 4, 2009 : noon
Fresh from Texas, Chris Brown provides big hits for Michigan hockey
By James Briggs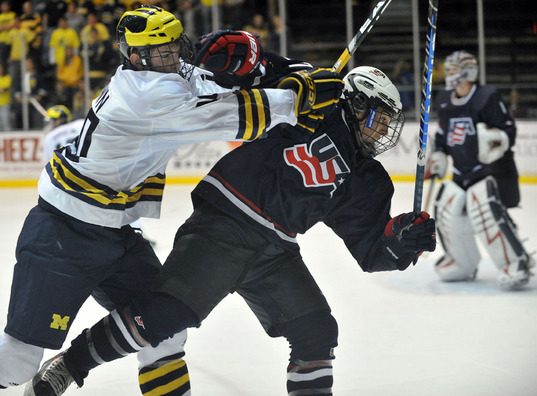 Recruiting in Texas is nothing new for the University of Michigan. The football team has five players from Texas, a state known for cranking out college and professional athletes. But
Chris Brown
is the first Texan to arrive in Ann Arbor with ice skates.

Brown, a 6-foot-2, 194-pound freshman, is the first Texas recruit for the Michigan hockey team. Brown is true to his roots, patrolling right wing like a linebacker, making big hits and racking up 21 penalty minutes, the most of any Michigan player. 
"He's a big, strong, physical forward, and (referees) watch for players like that," Michigan coach
Red Berenson
said. "Every time he hits somebody, somebody's going down, and then it's the referee's discretion: Was it a dirty hit, or was it an elbow, was it a high stick? He's been victimized."
Brown, who's played hockey since he was 3, played football in high school, but viewed it as a social activity.
"Football was mostly just a thing to hang out with my friends in high school," he said. "It's like church down there. But hockey's my passion."
Brown left Texas early and came to Ann Arbor in 2007, playing for the United States National Team Development Program and attending Pioneer High School. His play there impressed professional scouts enough for Phoenix to draft him in the second round (No. 36 overall) in last summer's NHL draft.
Brown's USNTD experience also prepared him well for college hockey. Brown recorded his second two-goal game and had an assist last weekend at Lake Superior State, earning him rookie-of-the-week honors in the CCHA. He's tied for the team lead with four goals and is tied for second with six points.
"He's fit in really well," Berenson said. "Brownie knows the parts of his game that have to get better, but right now he's contributing offensively and he's playing well with whoever he plays with."
Brown also has the third-highest shooting percentage (.267) on the team, a statistic that he said amounts to luck.
"I've had some lucky bounces, putting the puck in the net," Brown said. "You've gotta keep shooting."
Brown will face perhaps his greatest challenge of the season when the No. 4-ranked Wolverines play No. 1 Miami on Friday and Saturday at Yost Ice Arena. Michigan, which earlier this season lost to Boston, another top-five team, can solidify its place as one of the top teams in the nation.
And Brown can continue to emerge as one of the best young players.
"This is our test," he said. "This is going to be probably one of the toughest teams we play all year. They're obviously ranked pretty high in the standings right now, and this will be a good bench mark."
James Briggs covers Michigan hockey for AnnArbor.com. Contact him at 734.623.2557, or jamesbriggs@annarbor.com.