Posted on
Fri, Oct 5, 2012 : 5:43 a.m.
Red Berenson eliminates hazing of freshmen from Michigan hockey program
By Pete Cunningham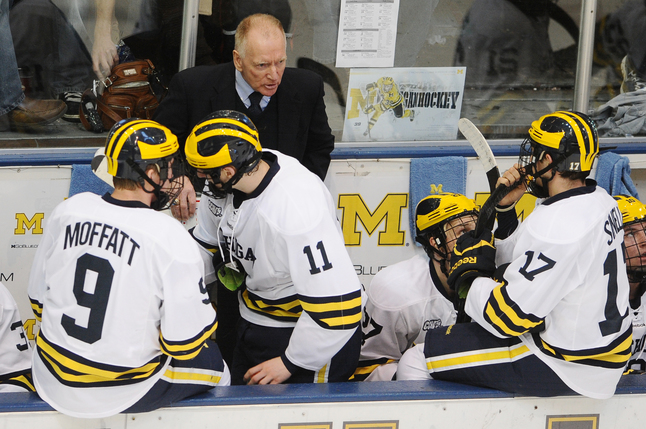 Melanie Maxwell | AnnArbor.com
Freshman hazing was a part of the
Michigan hockey
program when
Red Berenson
was a player in the 1960's and during every one of his 28 years as head coach.
It will not be for year 29.
Berenson said he's never been a fan of the rights of passage or freshmen duties ingrained in the program and finally decided to formally eliminate them before this season.
"We've taken all of the little freshmen things out of our program," Bereson said after practice on Wednesday. "It's hard enough to make the transition as a freshman without going through some of that. It's borderline embarrassment or humiliation."
Berenson said Michigan's "hazing" has always been on the tame end - especially compared to what he went through as a rookie in the NHL. Traditionally, freshmen have had to carry the pucks to and from the ice before and after practice, load the team bus for away games and be last in line to eat at team meals, among other things.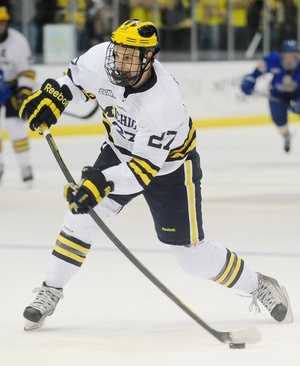 All of those traditions have been eliminated.
"I've never liked the whole hazing thing," Berenson said. "I think some of the players think it's a chance to get back at what happened to them and they want to make it worse rather than better and so on, so I've taken it right out of our program."
Berenson said there was no specific incident that triggered the decision and that the change is simply to promote team unity.
"They've earned the right to be here and they might be some of our best players," Berenson said, using the example of Alex Guptill, who led the team is scoring last year as a freshman.
Some of the more highly touted freshmen in this year's class are defenseman Jacob Trouba, the ninth overall selection by the Winnipeg Jets in the 2012 NHL Entry Draft, Cristoval "Boo" Nieves, a second round pick by the New York Rangers and goalie Jared Rutledge, who is expected to be the primary starter.
"I think it will help the freshmen feel embraced and accept their roles and be more excited about being on this team and not intimidated by the upperclassmen," Berenson said. "Let's not remind us that we're freshmen. They've already been reminded, now let's play."
Michigan opens the 2012-13 season against Rochester Institute of Technology at Yost Ice Arena on Thursday, October 11.
Pete Cunningham covers sports for AnnArbor.com. Contact him at petercunningham@annarbor.com. Follow him on Twitter @petcunningham.