Posted on
Wed, Dec 5, 2012 : 2:15 p.m.
Red Berenson hopes benching forward Alex Guptill will lead to improved work ethic, practice habits
By Kyle Austin
The Michigan hockey team made the trip to Ferris State last week desperately needing points to get back into the CCHA race.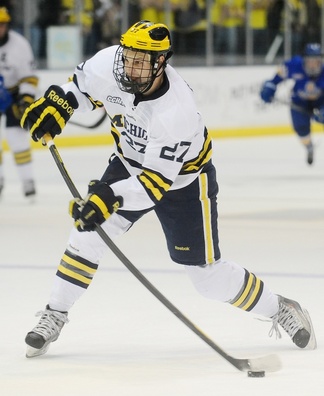 AnnArbor.com file photo
But when the team bus left Ann Arbor, its leading returning scorer wasn't on it.
Coach Red Berenson said Tuesday that he left Alex Guptill home from last weekend's road series due to the sophomore forward's work ethic, attitude and practice habits in recent weeks.
"He's too good a player to keep going the way he's going, particularly his work ethic and his practice habits," Berenson said. "It was showing up in games."
The Wolverines (5-8-2, 3-6-1-2 CCHA) returned from the weekend with two of a possible six points from a weekend trip, after a 5-0 loss Friday night and a shootout win Saturday night. With 11 league games in the books, Michigan is seventh in the 11-team conference.
After this week's bye week, Michigan will have one more first-half CCHA series, Dec. 14-15 at home against Western Michigan, before the Great Lakes Invitational Dec. 29-30.
Guptill returned to practice Tuesday, Michigan's first day on the ice since the weekend, and Berenson said he looked improved. Michigan didn't make him available to the media.
Guptill was named CCHA Rookie of the Year last season, after he finished the year tied for the team lead with 16 goals and 33 points.
This season, he has four goals and 11 points. But heading into last weekend, Guptill hadn't scored since Oct. 27, a span of seven games, and hadn't recorded a point in the last three.
"I put him in our top four players, and he's playing like he's in our bottom four, so it's pretty evident," Berenson said. "He knew it and we knew it and we had to do something about it."
In their first game without him, Michigan was shut out for the first time all year.
But that doesn't mean the decision was a mistake.
"I can't say it helped our team, but I think other guys understand that if Guptill can sit out, so can they," Berenson said. "But that shouldn't be your motivation to be playing here."
Guptill is far from the only Wolverines player who has struggled on the offensive end this season. Forward and captain A.J. Treais has 10 goals, tied for the most in the CCHA. No other player has more than four.
In their last seven games, the Wolverines have managed 11 goals.
"We started off with all kinds of offensive confidence as a team," Berenson said. "I said from day one we've got to get more guys scoring. We can't have one guy scoring every night and expect to keep winning."
But Saturday's game showed signs of life, as Michigan recorded three first-period goals.
Most notably, Berenson put together an all-senior line of Kevin Lynch, Lindsay Sparks and Treais that produced two of those goals.
"We're really comfortable with each other, and I think that really showed with the spark we had in the first period Saturday," Lynch said.
So while there may be little evidence on the ice so far, Berenson thinks his team is moving in the right direction.
"I think we've got our team in a better mindset now than we did two weeks ago," Berenson said. "We're going to grow that. Whether that shows up next weekend, I hope it does."
Kyle Austin covers sports for AnnArbor.com. He can be reached at kyleaustin@annarbor.com or 734-623-2535. Follow him on Twitter @KAustin_AA.