Posted on
Sun, Dec 11, 2011 : 5:59 a.m.
Remembering Eastern Michigan's Lorenzo Seaberry, 'the little guy with the big smile'
By Guest Column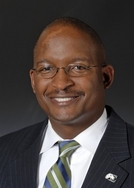 This guest column is from Derrick Gragg, the director of intercollegiate athletics at Eastern Michigan University
Derrick Gragg
Eastern Michigan University
As the director of intercollegiate athletics at Eastern Michigan University, I spend a great deal of time meeting and communicating with coaches, student-athletes, donors and many other friends of the institution. None of my days is the same and many are unpredictable as I am usually overloaded with phone calls, text messages and emails while running from one meeting to the next.
However, no matter how busy I am, every now and then something happens that causes me to pause, slow down a bit and put things in proper perspective.
My latest moment of clarity came on a typically hectic day when our head athletic trainer Steve Nordwall walked into my office. Steve oversees perhaps the most high-risk area and important area in college athletics for our department - sports medicine. Steve keeps me up to speed on injuries and other physical or mental challenges our student-athletes may be experiencing. He also informs me when any student-athlete has come in contact with police or other law enforcement officials; thus I tend to brace myself a bit when Steve appears.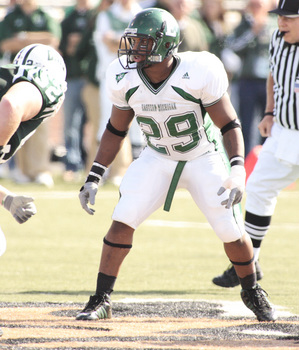 Eastern Michigan University
I could tell by the troubled look on his face that this was not going to be a very good exchange, thus, I began thinking of the endless scenarios that could have happened the day before. Did we lose someone for the season due to injury? Did someone get arrested? Did an athlete skip a mandatory counseling session?
"Derrick, do you remember Lorenzo Seaberry?" he asked.
"Of course I do. I saw Lorenzo at a football game earlier this season," I responded.
"Well," Steve said with a serious look, "Lorenzo was just diagnosed with a rare form of kidney cancer and the doctors are saying he will live three to seven months tops."
The only response I could utter was, "Steve, how old is Lorenzo?"
"He's only 24."
As athletic administrators we all come in contact with thousands of student-athletes over a period of time; so, it is impossible to remember everyone. However, Lorenzo MADE you remember him. Those of us who are parents try not to make distinctions between our children by labeling any of them as our "favorites" as they grow up. We try our best to treat them all the same, and love and care for them in the same manner. Since I have many "children" to care for as the athletic director, I have also attempted not make such distinctions.
However, Lorenzo has always been a bit different and ranks near the top of my secret "favorite student-athletes of all time." Born and raised in Cleveland, Ohio, Lorenzo had beaten all kinds of odds on and off the field. He was enrolled in graduate school at Eastern and he certainly served as a shining example of how a person can maximize their potential athletically and academically through sports.
Chase Bank/Lorenzo Seaberry III Memorial Fund
Lorenzo Seaberry spent the last month of his life in the University of Michigan Hospital, one of the most renowned medical facilities in the country. Of course such medical care is not inexpensive, especially when attempting to fight cancer.
Lorenzo's family not only has to cope with the painful loss of an outstanding young man, they are also responsible for the debt that accumulated while he was hospitalized. Therefore, the Lorenzo Seaberry Memorial Fund has been established to help aid his family as they attempt to move forward after this tragic loss. Those of you who wish to help the family can do so by making donations to:
Chase Bank / Lorenzo Seaberry III Memorial Fund / Account # 414058144
Checks can also be forwarded to the Eastern Michigan University Department of Athletics payable to the Lorenzo Seaberry III Memorial fund. They can be forwarded to Eastern Michigan University, Department of Athletics, 799 N. Hewitt Rd, Ypsilanti, MI 48197 Attention: Jenny Scherer.
Lorenzo entered Eastern Michigan as an under-sized walk-on/non-scholarship linebacker in 2005. Anyone who knows anything about college sports can tell you that being a walk-on is the toughest thing a student-athlete can do. They often end up as "practice players" (think "Rudy") with little to no chance of ever seeing meaningful action in games as they go head to head with much bigger, stronger skilled athletes. They work just as hard as the scholarship athletes all the while paying for their experiences through work-study, loans or employment. Many of them are truly the unsung heroes of their teams.
The 2009 Eastern Michigan football media guide lists Lorenzo as 5-foot-8, 216 pounds, but those of us who know Lorenzo knew that this was a stretch at best. However, what Lorenzo lacked in size, he always made up for in heart, work ethic and personality. He did not play during his first year here, but during the next four years he went on to earn a football scholarship and played in 42 games on special teams and as a reserve linebacker earning four varsity letters. He was also named "Defensive Big Playmaker" Award for a game in 2007 and earned three additional single-game awards during his career. Not lofty statistics by any means, but certainly meaningful and significant, especially when considering the long odds he beat to contribute to his team.
We only won eight football games during Lorenzo's playing career at Eastern Michigan and did not win a single game his last year on the team, but he always greeted me with his signature big smile — the same big smile I saw at the football game earlier this year.
As he approached me at the former football players' tailgate tent, Lorenzo was obviously very proud of our team's improvement and wanted to tell me face to face.
"Dr. G, I really like what you guys have going on now with the program," he said. I responded by thanking him for his past contributions to the program. At the time I did not know that our next in-person visit would take place in a hospital little more than a month later.
I paid Lorenzo a visit on the Monday of the Thanksgiving week. We were heading into our last game with a 6-5 record needing to win a seventh to obtain a winning record for the first time since 1995 and secure the first bowl bid for Eastern Michigan since 1987.
Many things went through my mind as I drove to the hospital. I had tossed and turned all night prior to the visit. Honestly, I didn't know if I had the courage to visit him, but felt an obligation to go as the leader or the athletics department. I was also hoping that seeing a friendly familiar face would help him in some small way. As a father of three, I dreaded the visit and I could only imagine what his parents were going through.
As I entered his room I found Lorenzo sitting up on the edge of the bed awaiting a nurse who would replace his I.V. His mother asked him if I was one of the coaches and he immediately looked up and said, "Naw, he's the AD. Hey Dr. G., how are you doing?"
My first thought was how he would ask me how I was doing at a time when he was supposed to be the sole focus of attention. I didn't want him to talk too much because he needed his rest; however, he once again began speaking about how much better our team was and how he'd seen us play on television while at the hospital.
"Dr. G, if I get out of here," he said with his voice trailing off, "I mean WHEN I get out of here, it would be great to be at the bowl game just to be in that atmosphere one more time."
I promised him that I would reserve a spot in the athletic director's suite just for him. "Ever the fighter," I thought. Before I left the hospital, I gave Lorenzo's mother my business card and asked her if there was anything she needed. She looked me right in my eyes and simply said, "A MIRACLE. And lots of prayer."
That statement stopped me in my tracks as I held back the tears as I exited the room. Even before leaving the parking structure at the hospital, I began centering myself, putting all the TRULY important things into perspective. The first thing I did was pray for Lorenzo and his family, then I got in touch with my 18 year-old daughter (who resides in Alabama) just to let her know that I loved her.
Unfortunately, as we have learned throughout our lifetimes, not all stories have great endings. Just three days later, on Thanksgiving morning Steve Nordwall called to tell me that Lorenzo had lost his courageous fight earlier that morning surrounded by his mother and other family members and friends.
Lorenzo Seaberry III died just a month short of his 25th birthday. I am sure that several of his former teammates dedicated that last game to Lorenzo the next day. They played valiantly losing in a heart-breaking 18-12 game to the eventual Mid-American Conference champion Northern Illinois team. However, as big as the loss was for us, it didn't seem so big anymore.
A few days ago, I did something that was even more difficult than visiting Lorenzo in the hospital — I attended his memorial "home-going" service in Cleveland. Many of his past teammates from both high school and college were there as well as hundreds of other people.
The pastor even remarked that, "Only Lorenzo could throw a party like this." Oh how right he was. I was not surprised that the little guy with the big smile and even bigger handshake and hug would fill an entire church with people who cared about him. The photographs in his memorial program speak volumes about the life he led, who he was and what and who he represented.
The words listed on the pages with the photographs describe Lorenzo as a son, brother, grandson, uncle, athlete, companion, encourager, teammate, and friend. He was all of those things and so much more.
Derrick Gragg is the director of intercollegiate athletics at Eastern Michigan University. He can be reached at dgraggjr@emich.edu.