Rich Maloney leaving Michigan after 10 years as baseball coach
Posted on Tue, May 22, 2012 : 7:16 p.m.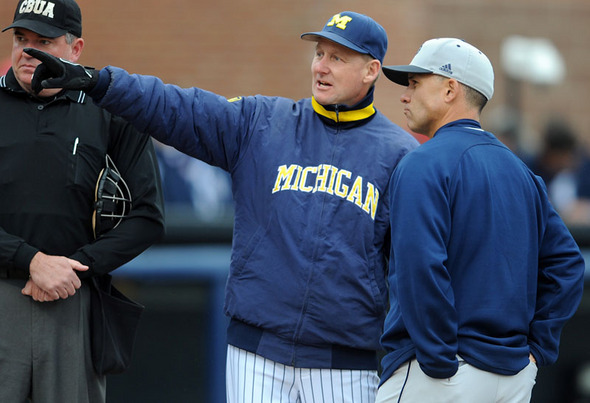 Melanie Maxwell | AnnArbor.com
Michigan baseball coach Rich Maloney will not return for an 11th season with the Wolverines, the school announced Tuesday.
In a release, Michigan stated that Maloney and athletic director Dave Brandon "mutually agreed to not extend" Maloney's contract, which ends June 30.
"Rich had several significant accomplishments during his Michigan career, but we agreed a coaching change at this time was in the best interest of the program," Brandon said in a statement. "We appreciate Rich's contributions and wish him well as he transitions to his next career endeavor."
Maloney, who had a 341-224 record in 10 seasons in Ann Arbor, led the Wolverines to three Big Ten titles, two Big Ten Tournament championships and an NCAA Regional title in 2007.
This year's team finished 22-34, the second straight sub-.500 record after finishing with a winning record in Maloney's first eight seasons.
In an interview with AnnArbor.com earlier this month, Maloney discussed the rash of injuries this year's team suffered and talked about turning things around in 2013.
"You got to keep growing as a team, and that's what they've done, even though they've been handcuffed a little bit," Maloney said. "But the great thing is there are some young guys who are getting experience.
"Hopefully, that pays dividends for us next season and we can get this thing going."
In a statement released Tuesday, the Roseville native said he grew up dreaming of playing baseball at Michigan.
"Coming to Michigan as baseball coach was a dream come true. I feel privileged to have worked at such a great athletic and academic institution," he said. "This decision was one that Michigan and I reached together. It's a time of transition for the program and time for me to move my career in another direction."
Michigan said it will begin a national search to replace Maloney, who was instrumental in the fundraising to renovate Fisher Stadium.
"I would like to thank all of the baseball alumni and donors that played an integral role in the stadium project," Maloney said in the statement. "This is one of the top highlights on my list of Michigan memories and I appreciate their commitment to Michigan baseball."