Posted on
Wed, Nov 4, 2009 : 4:54 p.m.
While Rich Rodriguez rebuilds, he's leaning on not-so-young juniors and seniors
By Michael Rothstein
Rich Rodriguez is pleading for patience as his team spirals down the Big Ten Conference standings. The Wolverines have lost four in a row in the league - and each week look less competitive.
Meanwhile, the second-year Michigan head coach, the guy who admittedly is impatient when it comes to winning, seemingly expected this from the start.
Asked if he thought his team would be better sooner, Rodriguez said "not after I got here."
Many people point to the lack of depth as a reason for Michigan's struggles - and there is an argument to be made there.
However…
This team isn't exactly the picture of youth Rodriguez projects, at least among its front-line players. This means that while Rodriguez's rebuilding process may pan out, it might take longer than he thinks.
If there is one thing that is glaringly obvious on this year's Michigan team, it is that the players who are performing at a level worthy of competing in the Big Ten are the same players who might not be here next season.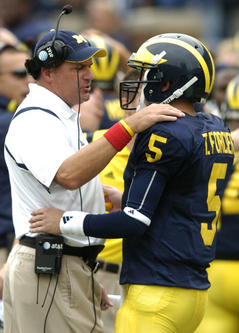 Melanie Maxwell | AnnArbor.com
Michigan's most talented players on offense - Brandon Minor - and defense - Brandon Graham - are both gone. Graham, the only bright spot on a horrendous defense, will likely be a first-round pick in April.
On this week's depth chart for Purdue (noon, Big Ten Network), Michigan will start eight players on offense who have been in college for three years or more, including redshirt years.
On defense, eight starters fall into the same classification.
Special teams features two fifth-year seniors in kicker Jason Olesnavage and punter Zoltan Mesko.
So to point to the roster and say 60 freshmen and sophomores are on it, including walk-ons, as a youth excuse a false truth. As is saying - as Rodriguez has - that Michigan's talent level was left bare when he was hired in December 2007. Because he clearly feels a bunch of those players are good enough to win with this season.
The defense has five players who will have at least 19 starts - Graham, Jonas Mouton, Stevie Brown, Donovan Warren and Obi Ezeh. The offense has five players with 19 or more - Martavious Odoms, David Moosman, Mark Ortmann, Greg Mathews and Stephen Schilling.
All are major contributors to Michigan this season. But what is also happening is that by playing them, Rodriguez is slowing down the developmental clock on the players behind them. Part of building a program is taking significant lumps by playing young players in bunches and allowing them to grow through their mistakes.
It has happened all over the country, from Notre Dame to the beginnings of what ended up being USC's domination of the Pac-10 over the past decade. Yet at Michigan, a lot of those young players are merely providing depth.
The exceptions are striking. Freshman Tate Forcier at quarterback, freshman Craig Roh at outside linebacker and sophomore Mike Martin at nose guard all have provided bright spots this year.
But there are spots where Michigan is playing walk-ons out of necessity, which means next year the Wolverines will either continue to play the walk-ons - it started two on defense last week in safety Jordan Kovacs and linebacker Kevin Leach - or it will be playing young talent again.
If this season has taught Michigan fans anything, it is that the younger the player, the more inconsistencies that player shows.
"It takes a little bit longer sometimes than anybody would want," Rodriguez said. "Progress is being made, not as quickly as some people would like, but we're going to press forward and get it done eventually. Hopefully sooner rather than later."
It is why he's preaching patience, although it is tough to see where Michigan will make massive strides next year.
Besides Graham, there's a chance Warren could forgo his last year of eligibility and enter the NFL Draft because of a pending salary cap restriction on rookies along with potential labor issues in the NFL. This means the Michigan defense would lose its best two players and Stevie Brown, the most consistent of the Wolverines' three starting linebackers, will also be gone.
Same thing on offense, where Michigan will lose its top two running backs - Minor and Carlos Brown - along with at least two linemen in Mark Ortmann and David Moosman. There's the possibility of Michigan starting a freshman quarterback for the second straight year if Devin Gardner is as good as his four-star Rivals.com recruiting status would indicate.
All of this could lead to more inconsistency next season, when progress will need to be much more than just playing in a bowl.
Michael Rothstein covers University of Michigan sports for AnnArbor.com. He can be reached at (734) 623-2558, by e-mail at michaelrothstein@annarbor.com or follow along on Twitter @mikerothstein.